EVERY WEEKDAY MORNING, DailyEdge.ie rounds up the best of the day's celebrity dirt from the top to the very bottom.
DPA / PA Images DPA / PA Images / PA Images
Kim Kardashian has taken to Twitter to defend her husband after his longtime friend Rhymefest accused Kanye of 'abandoning' his Chicago charity. 
Last week, Kanye West and Pusha T released a song that mocked Drake's alleged use of a ghostwriter, which prompted Drake to invoice Pusha T $100,000 for reviving his career.
While all of this was going on, Kanye's old pal Rhymefest called on Drake to donate to Kanye's Chicago charity "Donda's House", claiming that West had completely forgotten about the charity, which is named after his mother.
Rhymefest then said that Kanye said "f**k the youth of Chicago" the last time he was asked for money for the charity. So Kim Kardashian decided to step in. She wrote a series of tweets aimed at Rhymefest which said:
U haven't been right since u got kicked out of the studio in Hawaii wearing fake Yeezy's @RHYMEFEST. You're over leveraging Kanye's name and asked Kanye to donate money to u so stop w ur fake community politics and lies. Truth is you haven't been able to sustain the foundation.
Kim didn't hold back. She said that she was going to take Donda's House from Rhymefest and let her children run it. She also said that the rapper's flight to Wyoming had gotten cancelled and that he was no longer going to be part of Kanye's new album. To kick him while he was down, she finished by apologising to her followers.
Sorry to all of my followers for flooding my timeline. I know you have no idea who Rhymefest is.
Ouch. (NME)
PA Wire / PA Images PA Wire / PA Images / PA Images
Thandie Newton shared the embarrassing story of when Victoria Beckham mistook her for Zoe Saldana. 
Would you have the guts to correct Posh Spice? Thandie Newton did, anyway. The Westworld star was chatting with Graham Norton and discussed how often she's mistaken for Zoe Saldana.
People who I've known, for example – bless her heart – Victoria Beckham, who I've met a few times, we're in SoulCycle in LA. We're talking away. We're *this close*. She made a comment like "Oh, it's so great that you're coming to SoulCycle even though you're pregnant." I said "Oh, no. I had the baby a few months ago", thinking I obviously look rubbish. Then after a few more minutes of chatting, I realised she thought I was someone else.
BBC America / YouTube
Thandie eventually just said "Vic, do you think that I'm Zoe Saldana?" It's safe to say that Victoria Beckham was pretty embarrassed after this. Thandie wasn't too annoyed because Zoe is a "rare beauty", but she did find it hard to believe that Victoria didn't notice her English accent.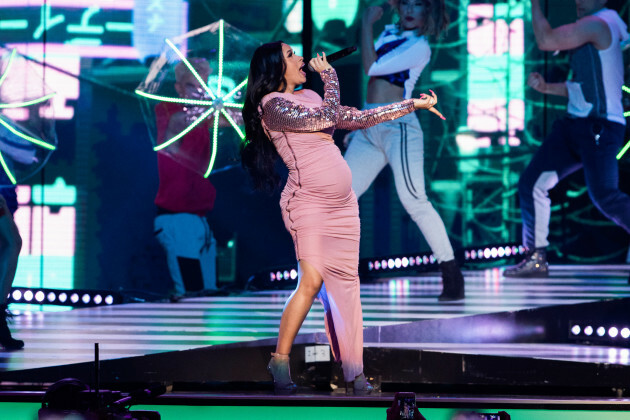 SIPA USA / PA Images SIPA USA / PA Images / PA Images
Cardi B is delighted with the surprise perks of her pregnancy. 
The 25-year-old rapper took to Instagram to talk about how she's "blessed and gifted" with her pregnancy:
Good morning y'all! You see what my child is doing to me? Do you see my motherf**king hair? This shit growing and growing and growing. You see my skin? Like, a bitch looks like I put moisturiser on, but I just woke up!
Cardi then went on to express her delight at the fact that she's gone up a couple of bra sizes, and has saved herself a trip to the ER.
Got a whole brand new pair of titties, got to go to Victoria's Secret and get me a new bra, because evidently [her old bras] aren't fitting.
It's not all good though. Cardi complained that she has been suffering with really bad heartburn and shortness of breath. But apart from that, she thinks that her child's looking out for her.
And the rest of the day's dirt…
Love Island's Kem has bagged a job presenting a spin-off of the show (Digital Spy)
Drake released a diss track aimed at Kanye and Pusha T (Cosmopolitan)
Kian Egan has his sights set on becoming the next Louis Walsh (RTÉ)
DailyEdge is on Instagram!