THERE'S BEEN SHENANIGANS aplenty around the country on this *long* Paddy's Day weekend – so it's natural that some of that would go a little too far.
On Thursday night in Kinsale, as Nick McCarthy writes on Facebook, his dad's window was the unfortunate victim of a falling reveller:
Got a phone call late last night from my dad after i'd finished work.Few drunk lads outside his living room window,one fell onto it and smashed it into the room.After he'd got over the shock and got outside they had gone leavin the entire window smashed in.Said he thought it was young lads but he'd no idea who it was.
They sorted out the window as best they could for the night and had someone over to fix it the next morning. It was then that something rather lovely happened:
"Just in the kitchen chatting waiting for glass and discussing the event when i spotted something had been shoved in through the letterbox so it turned out to be an envelope."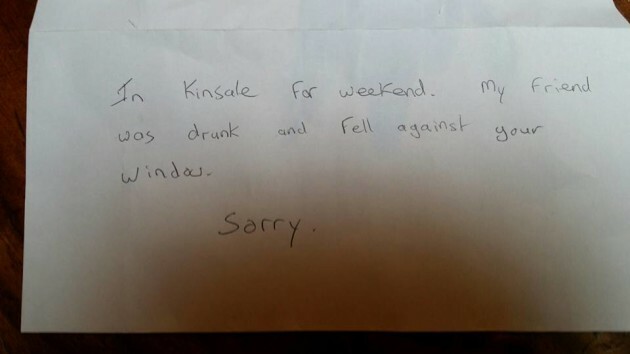 "To the lads involved…fair play to ye."
Facebook Facebook
DailyEdge.ie has contacted Nick for more information, but the Facebook post on his page has really struck a chord – with nearly 20,000 likes and 4,000 shares in just over 24 hours.
The money was enough to cover the work done but it was the gesture that meant the most to Nick and his dad:
Totally restored my faith in people…absolute class.Shame ye didn't ring the bell and deliver it on person so he could thank you for your honesty.
Fair play for taking the responsibility.
DailyEdge is on Snapchat! Tap the button below to add!