DADS QUITE FRANKLY are the best. They're the ones who put you high on their shoulders so you can see the world from brand new heights and they're also the ones who make terrible jokes in a bid to cheer you up.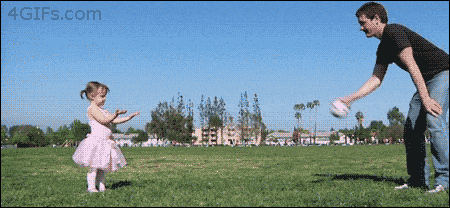 GIPHY GIPHY
In my case, my dad introduced me to Harry Potter, something he would later live to regret when I asked for all the audiobooks for Christmas.
Anyway, Liam Payne was speaking about how he's found the first year of fatherhood with magazine #Legend. Last year Cheryl gave birth to their son Bear who Liam describes as 'a tiny bear shaped legacy' which might be the cutest thing I have ever heard.
Liam says his life has totally changed since he's had Bear and that it was hard to deal with at first.
Becoming a dad is difficult and I think a lot of people struggle. Dads don't really speak about it until you're part of the club and then they'll go, "Oh, wait for this, that's in the post!" and you're all like, "Oh, thanks for the warning!" Fatherhood was totally different to what I expected.
2017 has been a crazy year! I'm gonna post a memory every day this week. First has to be my baby boy Bear! Holding him for the first time is a memory I will never forget and watching him grow up is just amazing to see. pic.twitter.com/ZDtHh0ky7C

— Liam (@LiamPayne) December 26, 2017
He said that the hardest part was getting used to being a family and trying to find his place.
I didn't really feel put out, but I was like, "Where's my place?" I was desperate to find out what I was meant to do – changing nappies and whatever else. For me as a dad, you're just taking care of everything as much as you can, making sure he's got a smile on his face.
His place it turns out is cooking for Cheryl and baby Bear because cooking made him feel 'useful rather than the guy who gets handed to change his nappy and make him laugh and giggle'. I'm not crying, I just have something in my eye. YOU'RE CRYING.
Thank you so much for all of your beautiful birthday wishes for Bear
🐻 ❤️ have told him he has lots 😁

— Cheryl (@CherylOfficial) March 22, 2018
Liam speaks so highly of Cheryl too and honestly I would like more men to be like Liam Payne because I feel the world would be a better place. That being said, the bar for men is generally set so low so maybe I'm over reacting slightly. THEN AGAIN.
Women are superhuman. You don't realise it until they have a baby. They can do a lot of things that, frankly, we can't.
Yes. We. Are.
He's also been talking about what success means to him now that he has a child.
Success has become a different thing after having Bear. The idea that I want to provide everything for my son – and who wouldn't? You'd jump on a hot  re for them. I have to do all this stuff  because I want to build a bright future for him.
Liam is only 24 and he's talking like a sweet old granddad. Maybe it comes from being in one of the biggest boybands in the world from an early age but either way, the man is bloody mature.
You have to go out and work for what you want. The one thing that I learned from my dad, even if he wasn't around as much as I'd have liked, was that he went to work and did his job so that I could enjoy myself. And that's what I want to do for Bear. Life does not stop when you have a child.
Hear, hear Liam. Hear, hear.
DailyEdge is on Instagram!