IN JUNE, SINGER Lily Allen is going to be releasing her fourth studio album, entitled No Shame.
To prove that she has no shame, she shared a ridiculous story about something that happened at the Glamour Awards a couple of years ago.
A person on Twitter asked for the best reasons why people had been kicked out of an event, building or group and Lily Allen wrote:
Someone gave me a line of what I assumed to be cocaine at the Glamour awards once, but it turned out to be Ketamine. I was thrown out (passed over some railings) of the Glamour Awards for being in a k-hole.
You can click here to see some photos of the incident.
Glamour's former editor Jo Elvin reminisced on #GLAMOURhole.
The former editor of Rolling Stone Indonesia asked where security were putting Lily Allen when they passed her over the gate. She responded: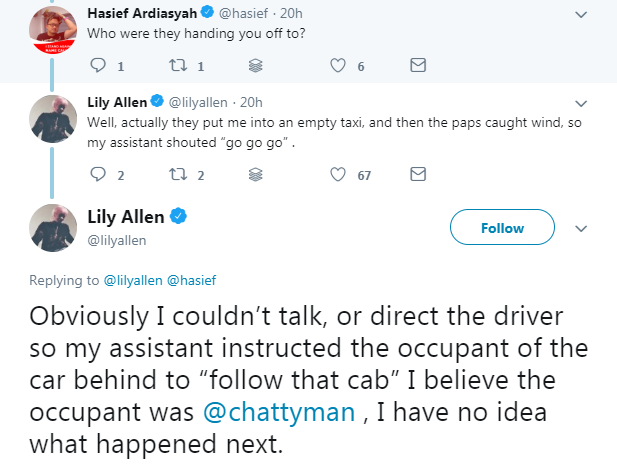 Lily Allen / Twitter Lily Allen / Twitter / Twitter
So, her assistant just put her in a car and told the driver to follow a random taxi, which she believed to be harboring Alan Carr. Alan Carr shared his side of the story, explaining that he was actually the one who was following Lily Allen.
He just sat up with Lily's brother Alfie drinking vodka while Allen was in a k-hole.
Singer Sam Sparro was also there. How very 2008.
People asked why on earth Lily would admit to this.
She simply responded #NoShame, to most of the people commenting. One man wrote "Yes, very admirable admitting drug use", to which Lily wrote:
When you take shame off the table they have nothing. LOL.
DailyEdge is on Instagram!