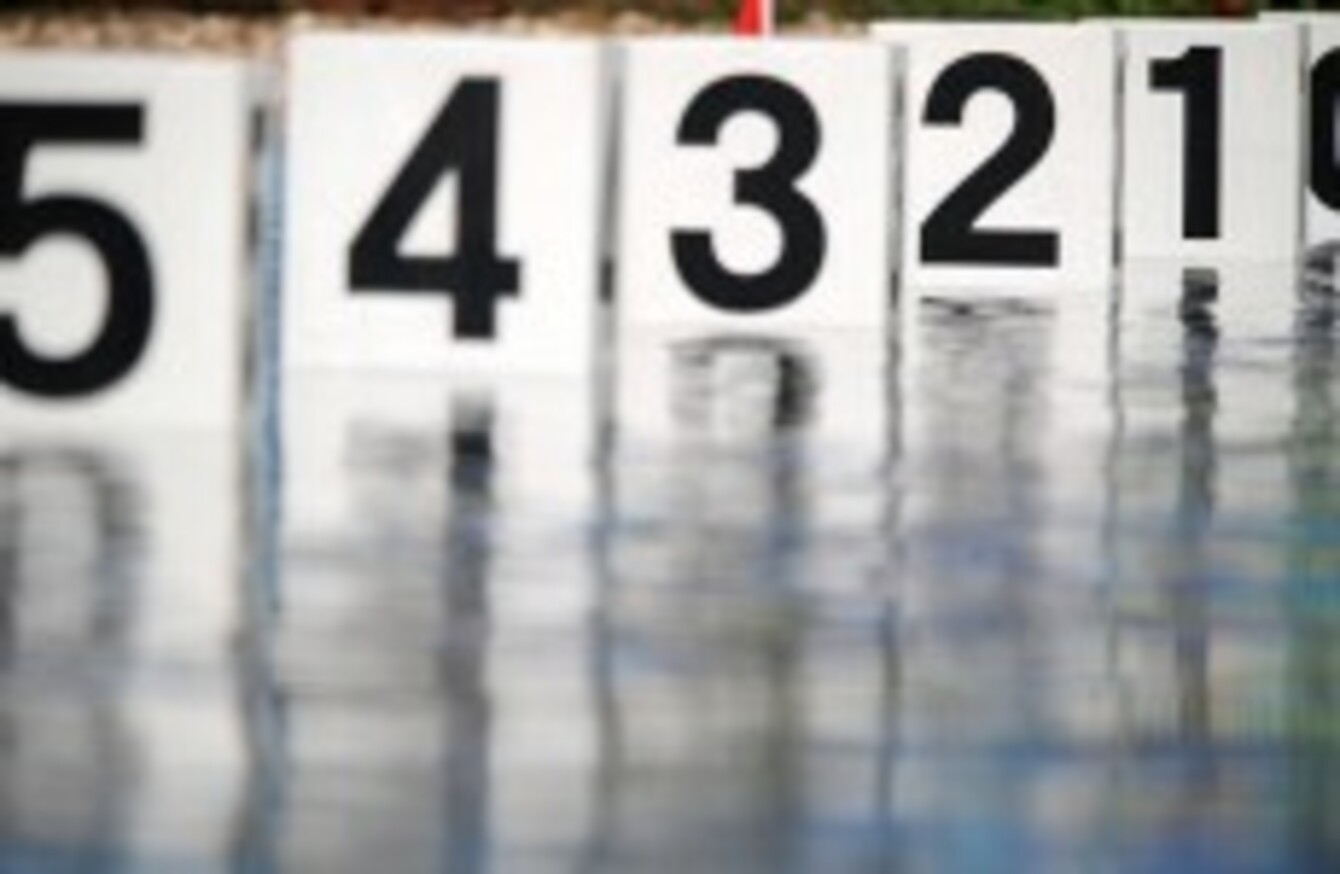 A general view of the lane markers at the Shunyi Olympic Rowing and Canoeing Park, at the 2008 Olympic Games in Beijing.
Image: Tony Marshall/EMPICS Sport
A general view of the lane markers at the Shunyi Olympic Rowing and Canoeing Park, at the 2008 Olympic Games in Beijing.
Image: Tony Marshall/EMPICS Sport
EVERY WEEK, TheJournal.ie offers you a selection of statistics and numerical nuggets to help you digest the week that has just passed.
This week, with the week that's in it, it's an Olympic special…
4.63 kilograms – The total weight of the 21 Olympic medals that Michael Phelps had won in his Olympic career, as of Friday night (by the time you read this, it'll probably be 22).
29.93 kilograms – The body weight of 16-year-old Japanese gymnast Asuka Teramoto, who is the lightest athlete at these games. That's less than four-and-three-quarter stones.
15.96 per cent – The amount of Teramoto's body weight which could be made up by the weight of Phelps' 17 gold, two silver and two bronze medals.
34.2 stone – The weight of Guam's judoka Ricardo Blas, the heaviest man at the Olympics.
204 – The number of countries represented at the games; there is no authoritative figure on how many people are taking part, but it's between 10,400 and 10,500.
170 – The number of IOC countries which, in their entire Olympic histories, have won fewer medals than Michael Phelps.
23 – The number of Olympic medals that have been won by athletes representing Ireland. Since gaining an independent team in 1924, we've won 8 golds, seven silvers and eight bronze medals. 12 of our medals have been in the boxing ring, though Michael Carruth's win at men's welterweight in 1992 is our only gold.
1 – The number of marathons in which John Treacy had run before taking to the starting line at Los Angeles in 1984. That race hadn't even been a competitive one. Treacy came second. He went back to LA in 1992 and won the Los Angeles City Marathon.
66 – The number of athletes representing Ireland at this year's games. That's about 0.63 per cent of the 10,500-or-so athletes taking part.
10 per cent – The proportion of eyesight that Im Dong-hyun has in his left eye; he has about 20 per cent in his right. That, of course, hasn't stopped him from becoming an Olympic champion in archery – breaking a world record in doing so.
4 – The number of athletes taking part in the Games who don't have a country to represent. Three athletes had qualified to represent the Netherlands Antilles, which no longer exists, while one was a refugee from Sudan who is running on his own because there's no national Olympic committee in South Sudan yet.
331 – The number of days between the births of Michael Phelps and Ryan Lochte. Lochte, contrary to popular opinion, is older. He turned 28 yesterday.
£78.28 – The price, per second, of watching the 100m men's final, if Usain Bolt (or someone else) were to match the current world record of 9.58 seconds. The top-priced tickets for that session at the Olympic Stadium cost £750. Thankfully, that's only one part of what'll be going on that night.
16 – The number of goose feathers in a badminton shuttlecock. Those features need to be taken from the left wing of a goose. That's a very strictly-imposed rule, apparently. (0 – The number of people in the office who can explain why.)
4,700 - The total number of medals that games organisers have commissioned for winning athletes at the Olympic and Paralympic games. They're being held in the vaults at the Tower of London until each is needed.
92.5 per cent - The amount of silver in an Olympic silver medal. Funnily enough, that's exactly the same amount in a gold medal: an Olympic gold is only about 6g (1.3 per cent) gold, mostly silver, and the remainder copper.
6,000 – The total number of urine samples expected to be taken from athletes between the two games.
1 – The number of heads of state who have opened more than one Olympic Summer Games. That's Queen Elizabeth, who had already opened the 1976 games in Montreal (as the Queen of Canada). Her husband Prince Philip opened the 1956 games in Melbourne on her behalf. Other games held in Commonwealth realms have been opened by their respective Governors-General.
1 – Speaking of Montreal, that's the only time that the host nation has failed to win a single gold medal at its own games.