IN THE WEEKS running up to the marriage referendum on May 22, artists all around Ireland have been showing their support the best way they know how.
Dublin-based artist Jess Tobin painted this beautiful #YesToLove mural outside the Bernard Shaw pub in Portobello yesterday: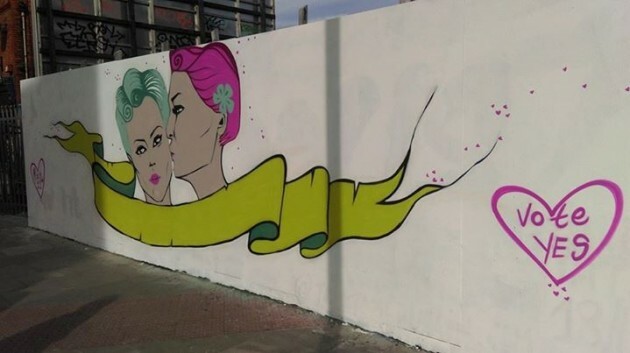 The Bernard Shaw The Bernard Shaw
The mural is part of artist Will St Leger's Walls of Equality project, which invites businesses to support marriage equality through street art.
This morning, however, many people noticed that the artwork had already been vandalised (albeit rather half-heartedly):
Speaking to DailyEdge.ie, Will St Leger said the Walls for Equality project is an "artist's response" to the referendum.
More murals will be going up at venues like Pantibar, The George and the Project Arts Theatre in the coming weeks:
There are places [around the city] where people have traditionally painted, so I asked them to give us the space to use for marriage equality pieces. It's really human, it's really grassroots and really personal. It's an artist's response – what can I do to bring about a positive message about marriage equality?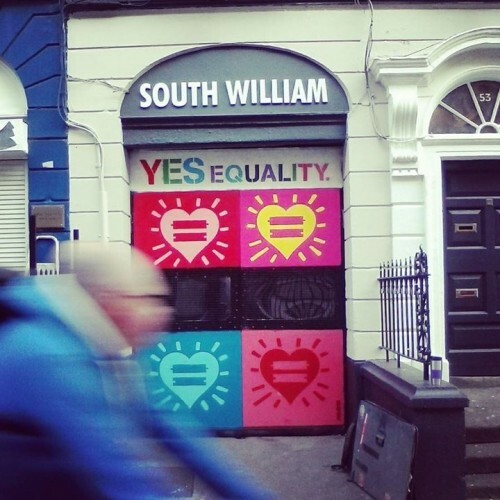 Will St Leger A Walls of Equality mural on South William Street, by the artist ADW Will St Leger
To put this piece of vandalism in context – there's a tiny majority of small-minded people in the country who are obsessed by this referendum, and of that tiny majority, the one or two who get hold of spray cans can't creatively protest against it. Their skill and artistic integrity is really telling. It's child play.
St Leger said street artists are used to their work being changed or added to, but not in this manner.
"It's usually not malicious, it's usually because someone wants to add something of their own to it. Even if it's bad manners, it's just layering," he said. "But this is quite different."
But it doesn't matter. We're going to paint again and paint again. If anyone thinks going out with a black paint can is going to stop artists helping to make this country a more pluralistic society then they're wrong.
This isn't the first instance of pro-equality street art being vandalised – a giant mural by artist Joe Caslin, which went up on the Dame Street/George's Street junction on Friday night, had been egged by Saturday morning.
An exhibition of Jess Tobin's work, called On Me Tod, opens at the Bernard Shaw tomorrow.