THEY SAY THERE'S no such thing as bad publicity but the folks at MasterCard UK may not feel that way right now.
The company launched a #PricelessSurprises campaign on social media, giving MasterCard holders the chance to win a trip to see Justin Timberlake live in London if they used the hashtag on Instagram and Twitter.
The campaign just so happens to coincide with the BRIT Awards – which MasterCard is sponsoring this evening – and the release of this rather awkward video.
Press Gazette reports that the PR company behind the campaign managed to annoy quite a few journalists by offering them press accreditation for the BRIT Awards only on the condition that they'd tweet about the MasterCard sponsor's campaign.
An email provided to Press Gazette by Daily Telegraph columnist Tim Walker reveals exactly what journalists were requested to do:
Social media support from both publication and personal Twitter feedPre event – e.g. 

Really excited to be heading down to @BRITAwards tonight with @MasterCardUK #PricelessSurprises

Event night – live tweeting from the event including @MasterCardUK handle and #PricelessSurprises and to retweet @MasterCardUK tweets throughout the night where appropriatePost event – tweet directing followers to @MasterCardUK BRITs YouTube videos

Pre-event coverage of MasterCard's Priceless Surprise video edits with either Laura Mvula, Kylie Minogue and/or Pharrell Williams – to include full credit for MasterCardUK and #PriclessSurprises

All features to be pushed on publications social feeds – to include @MasterCardUK and #PricelessSurprises

MasterCard inclusion in post event write-up (print and online) including #PriclessSurprises hashtag and somethingforthefans.co.uk URL
Unimpressed with the terms set out by House PR, those very same journalists decided to take their suggestions and change them ever so slightly.

It wasn't long before the rest of the internet got in on the action either.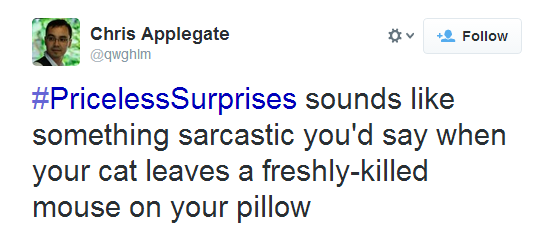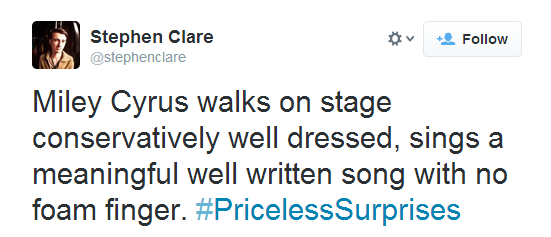 And sure didn't one Irish company even chance their arm?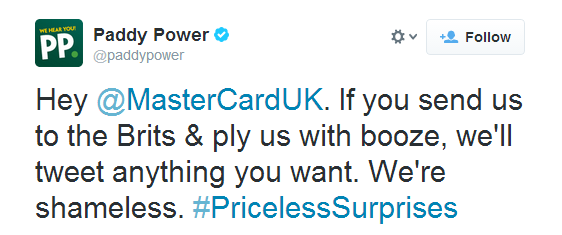 It seems as though the journalists' amusing tactic worked out quite well in the end though.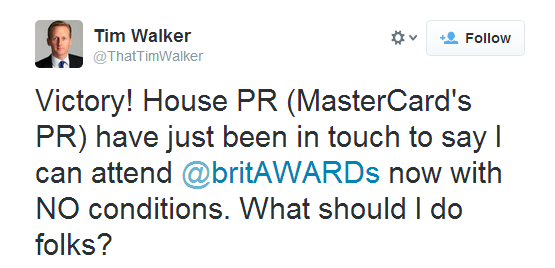 Us mere mortals can catch the BRIT Awards on UTV tonight from 8pm.
Tweeting along about #PricelessSurprises is 100% optional.