AT LONG LAST.
Finally. We have been adrift for so long. For too long. But the long wait is over.
Yes, Nestlé have decided to bring out a new type of premium of bottled water – strictly for the ladies. The water, called Resource, is targeted specifically at "a woman who is a little more on the trendy side and higher-income side, and the bull's-eye is 35 years old," reports the New York Times.
Image: via Nestle Resource
Nestlé also owns other swish water brands, including fizzy San Pellegrino and Perrier, but Resource will be its first premium still water. Larry Cooper, group marketing manager for Resource, said the brand is "intended for the most discriminating water drinker." All indiscriminate drinkers of water need not apply, repeat need not apply.
Cooper also expressed his wish that Resource would become a "lifestyle brand" that the female sales target might "carry it around as her bottle water accessory, so to speak."
We all know how those women love their accessories, eh Larry? Anyway, large companies sort of have a precedent for this kind of carry-on.
Honda announced a version of their Fit car last year, interestingly named "She's". The car came in only two colours – pink or "eyeliner brown". It boasted of special air conditioning that claims to help a woman's "sensitive skin" and a windscreen that helps reduce wrinkles.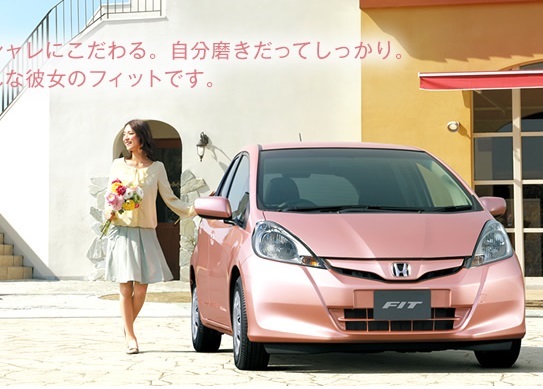 Image: via Honda
Because that is literally all female drivers care about, apparently.
Similarly, Bic have brought out a range of pink and purple pens "for Her". Talk show host and comedian Ellen DeGeneres took exception at the gender-specific attitude of the company and took it down in incredible style with this scathing bit:
YouTube/The Ellen Show
As Ellen says, "It's about damn time. Where have our pens been? We've been using man pens all this time?! Eugh!"
It's kind of everything we'd like to say to Nestlé.