BRITISH RETAILER Next has pulled a kids' t-shirt from sale after complaints about the message its slogan sent to children.
The long-sleeved shirt bore the words 'Happy Girls Are The Prettiest', and was aimed at girls from three to 16 years of age.
Next Next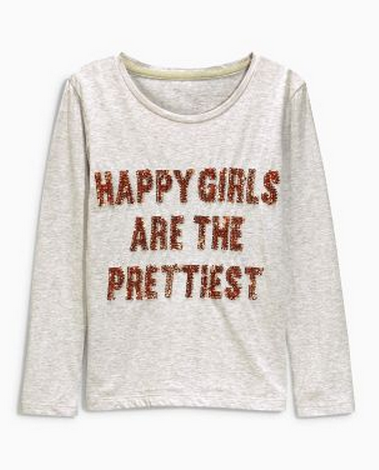 Next Next
According to the Daily Mail, the slogan is a shortened version of this quote from Audrey Hepburn:
I believe in being strong when everything seems to be going wrong. I believe that happy girls are the prettiest girls. I believe that tomorrow is another day, and I believe in miracles.
However, the quote has caused outrage on social media, with some people arguing that it implies unhappy girls are unattractive, therefore putting "pressure" on people suffering with mental illness.
The complaints began earlier this month with this tweet from Eleanor Pugh-Stanley:
Another user wrote that the message was "pretty mean on all us miseries suffering with mental ill health. No pressure, girls of today!"
Not everyone agrees, however. "I'd have an issue if it said 'Pretty girls are the happiest', but don't see the issue here," wrote one user.
Nevertheless, Next has said it plans to remove the t-shirt from sale, and apologised for any offence it caused:
We are working on making our ranges as inclusive as possible and avoiding gender stereotyping. We will definitely feed your concerns about this particular style back to the teams.