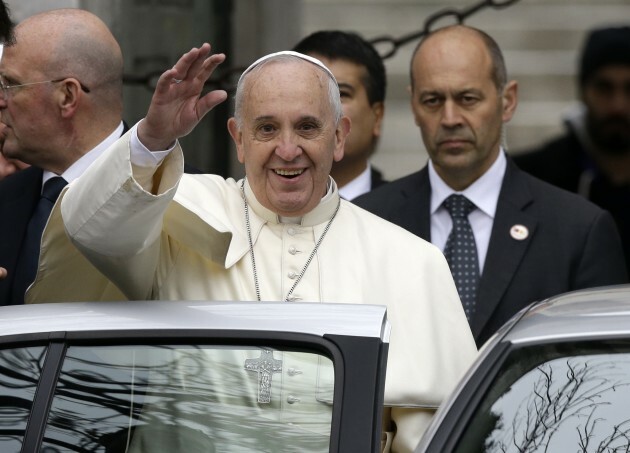 AP / Press Association Images AP / Press Association Images / Press Association Images
DOG LOVERS, HERE'S something to smile about – Pope Francis has gone against Catholic theology by suggesting that animals can go to heaven.
The New York Times reports that during a public appearance on St Peter's Square recently, the pope attempted to console a little boy whose dog had died, telling him:
Paradise is open to all of God's creatures… One day, we will see our animals again in the eternity of Christ.
Theologians have said that Pope Francis was only speaking conversationally, and did not make a doctrinal statement. However others feel the remark goes directly against Catholic theology, which states animals are soulless.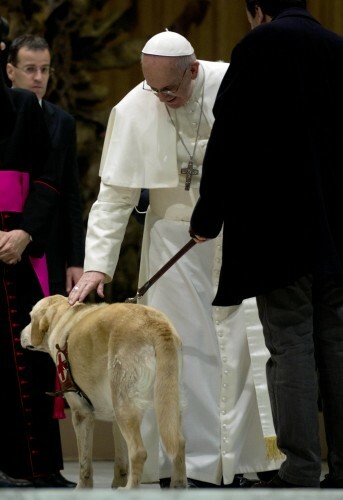 AP / Press Association Images Pope Francis petting a guide dog during a meeting with the media at the Vatican AP / Press Association Images / Press Association Images
Previous Popes have gone back and forward on the subject – USA Today reports that Pope John Paul II said animals have souls back in 1990, but in a 2008 sermon Pope Benedict said the opposite.
Pope Francis' comments have opened up a whole new debate on whether animals have souls – a spokesperson for the Humane Society said if Francis was truly going back on Pope Benedict's comments, the implications would be huge:
…If that's true, then we ought to seriously consider how we treat them. We have to admit that these are sentient beings, and they mean something to God.
Animal rights group PETA have also got on board with the message, saying it may move Catholics away from eating meat.