ONE DAD'S LOVELY gift to his bisexual daughter went extremely viral over Christmas for being so damn thoughtful.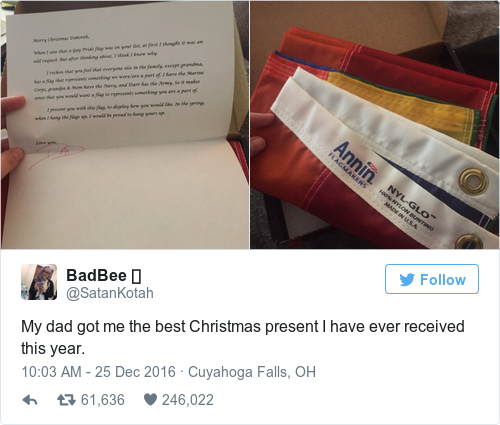 Dakota Whitcomb from Ohio asked her dad for a pride flag for Christmas, but didn't actually expect her dad to come through.
He already knew she was bisexual, and was fine with it, but her request for the gift was so last minute.
She told Buzzfeed:
We were raised with the concept that being gay is okay. We have a lot of LGBT family members and friends.
Flags are an important part of their identities within the family, flying a Marine flag, a navy flag, and an Army flag for her dad, mam, granddad, and brother.
So when Dakota asked her dad for the unusual Christmas gift, he understood why it would be so important to her.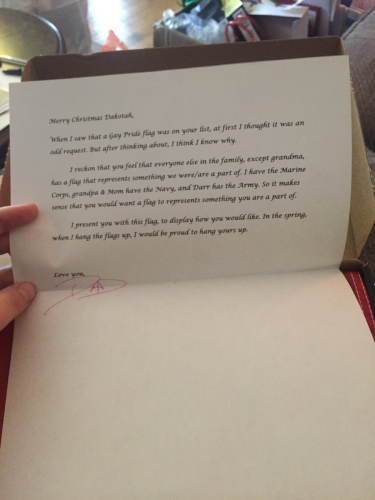 He wrote:
When I saw that a Gay Pride flag was on your list, at first I thought it was an odd request. But after thinking about it, I think I know why. I reckon that you feel that everyone else in the family, except grandma, has a flag that represents something we were a part of… So it makes sense that you would want a flag to represent something you are a part of… In the spring, when I hang the flags up, I would be proud to hang yours up.
Dad of the year.
DailyEdge is on Snapchat! Tap the button below to add!