1. Jonathan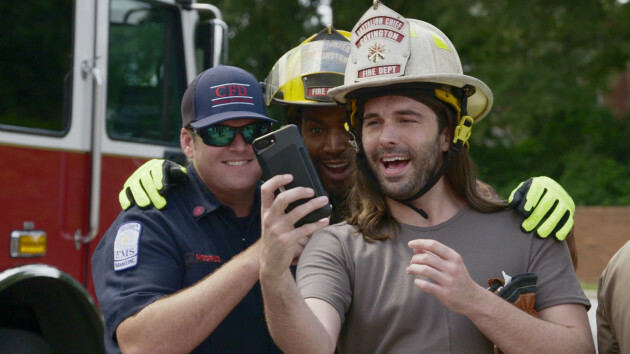 Courtesy of Netflix Courtesy of Netflix
Jonathan Van Ness is the real star of Queer Eye. He genuinely sees no bad in the world and thinks that everyone deserves to be as confident and as happy as he is. He has no time for self-deprecation and can instantly spot the coping mechanisms that people use to hide themselves from the world.
Oftentimes, the Fab Five find themselves in the homes of people who have some pretty dodgy politics, but Jonathan never tries to tone himself down to satisfy them. He's not ashamed of who he is. All he cares about is having a laugh. That's what makes the show so fun to watch.
Jonathan's physical contribution to the show is also unmatched. We've seen him putting his hairdressing skills to use, and his vision is unquestionable. Sometimes he gets another hairdresser involved, but he always gives them very clear guidelines about what each participant on the show needs. Has Jonathan ever chosen the wrong haircut? No.
2. Karamo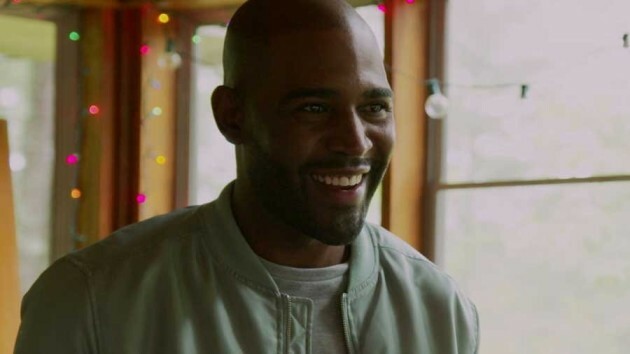 Netflix Netflix
As the Fab Five member in charge of 'culture', it's not always easy to see what Karamo's role in the group is. Usually, he's just there to have a DMC with the participants. People are extremely willing to open up to Karamo and it's hard not to respect him.
Karamo puts up with way too much on this show. When they go rooting through the property of the participants on the show, Karamo is visibly uneasy when he finds Donald Trump paraphernalia and MAGA hats. And with very good reason. He's a black man who also happens to be gay.
The other members of the Fab Five never have to deal with the kind of stuff that Karamo deals with (e.g. that horrible prank that the police officer pulled on him in the third episode). In spite of all of the disrespect that's shown to him, Karamo is extremely kind to every participant on the show. Few people have that kind of patience.
3. Bobby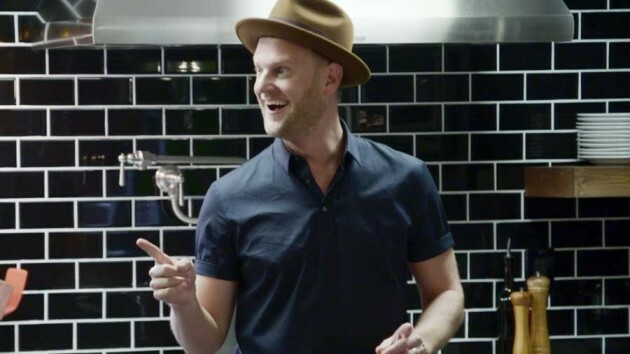 Netflix Netflix
Nobody knows anything about Bobby, because he's always running around working hard. Bobby is ranked third because, as the person in charge of redesigning the participants homes, he has the biggest reveal. That's a lot of pressure, but he pulls it off every single time.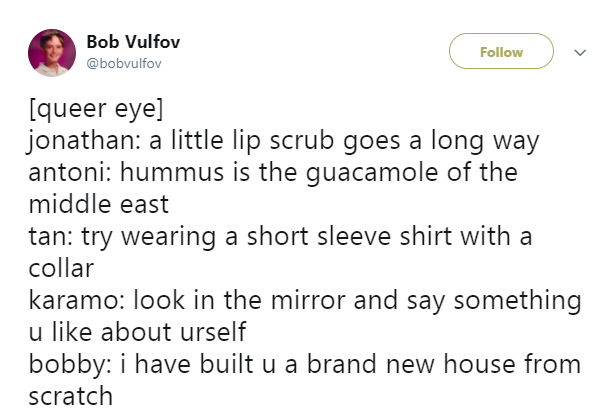 Bob / Twitter Bob / Twitter / Twitter
Seriously. Bobby does so much in five days. IKEA cashiers must dread the sight of him. Although, that said… We never actually get to see him doing any work. He might paint a chest of drawers every now and then, but we've never actually seen Bobby assemble a kitchen, three double beds and a kitchen.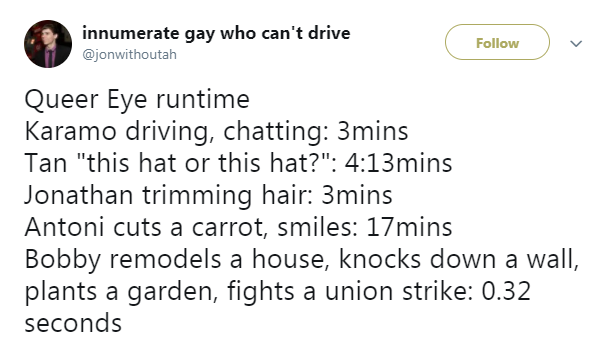 innumerate gay who can't drive / Twitter innumerate gay who can't drive / Twitter / Twitter
God only knows how many people are working on his team. He puts 60 minute makeover to shame.
4. Tan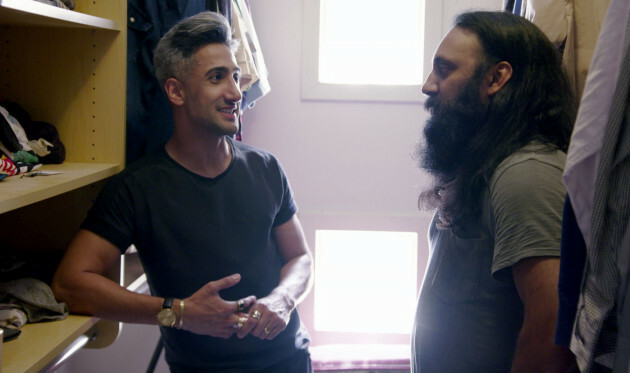 Courtesy of Netflix Courtesy of Netflix
Tan's very sweet and has a good sense of humour. In any other group of five people, chances are he'd rank first place. However, up against the multi-talented, highly creative and very skilled other members of the Fab Five, unfortunately he ranks 4th.
That's because, despite Tan's good eye for fashion and ability to envision a nice outfit that could suit anyone on the show, he could be quite easily replaced by anyone else who knows their way around a H&M. A bomber jacket is his solution to every problem.
That's fine, and it makes a big difference in giving participants on the show a huge confidence boost, but we haven't seen him cut hair like Jonathan, rebuild an entire house in five days like Bobby, or have to put up with as much shite as Karamo.
5. Antoni
Netflix Netflix
Sorry, but what the hell does Antoni do on this show? In one episode, he asked a participant what food they like. Their response was that they loved their mother's macaroni and cheese. So Antoni meets up with this guys mam, asks for the macaroni and cheese recipe and then relays it back to the son. The son could have very easily asked his own mother how to make macaroni and cheese.
There are plenty of conspiracy theories floating around the internet about how Antoni has no idea how to cook, and it's hard not to believe them. During the episode set in the fire station, one of his recipes was a regular hot dog, but with crisps sprinkled on top of it. Putting crisps on a hotdog is a life-skill that literally nobody needs.
This video is a perfect summary of a typical Antoni appearance.
If the video won't play, click here.
Antoni's charm allows him to get away with bullshitting about anything related to food for roughly three minutes in each episode. And nobody is complaining. We're just confused.
DailyEdge is on Instagram!