THE DAY HAS finally come. The 2018 World Cup has begun. The opening ceremony was, to put it lightly, pretty weird.
Robbie Williams, who has somehow still managed to cling to some enough relevancy in 2018 to do this, was chosen to open up the tournament, and it was like being violently flung back to 2005.
1. Gary Lineker didn't hold back.
2. Nobody was particularly excited to see Robbie in action.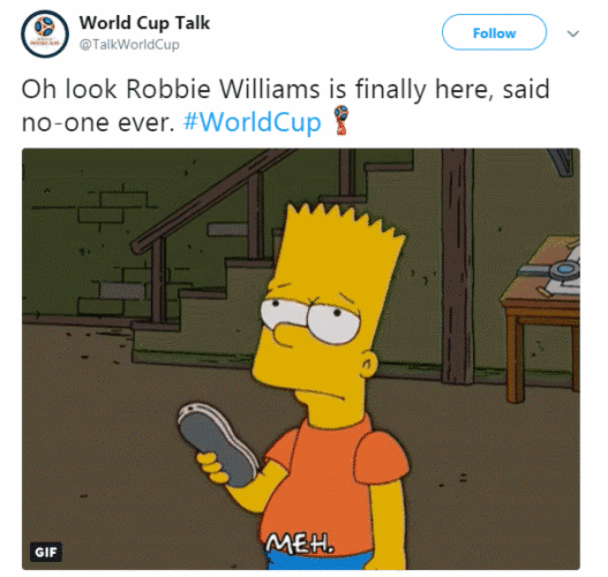 World Cup Talk World Cup Talk
3.
4. He was giving off some awful Uncle At A Wedding vibes.
5.
6.
7.
8.
9.
10. Then. To make things worse, Robbie decided to stick his middle finger up at the camera.
It's worth remembering that MIA was sued for $16.6 million for doing the same thing at the Super Bowl in 2012. Let's see if he faces the same repercussions…
If the video won't play, click here. 
11.
12. It wasn't just Robbie, either. The whole thing was just really bizarre.
If the video won't play, click here.
13.
14. And somehow, the stage setup looked like "Over the hills and far away".
DailyEdge is on Instagram!