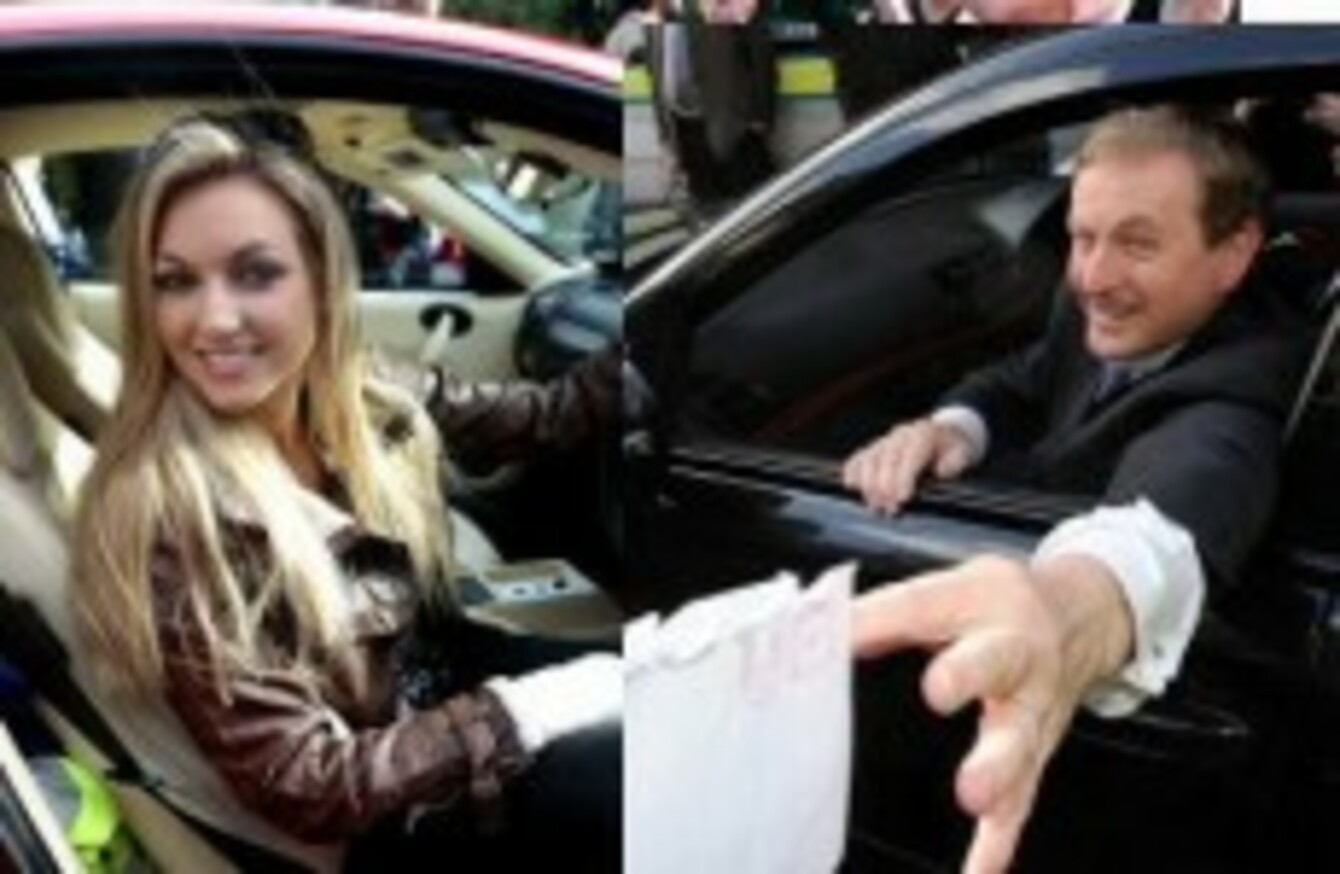 Who's in the Playboy driving seat... Rosanna or Enda?
Image: Press Association Images
Who's in the Playboy driving seat... Rosanna or Enda?
Image: Press Association Images
IS THE NEWS getting you down? Current affairs causing a frown? Satirical site The Mire has an alternative angle on the week's hot topics…
Public private partnership threatens right to pee in public
Monday, 8 October
The ancient tradition of urinating in public in Dublin faces a new threat from a sinister public-private partnership.
Dublin City Council is trying to get businesses in the city to open their toilets to members of the public in the absence of other facilities.
"Leave us to piddle in peace," a woman outside Brown Thomas said. "You'd miss the smell of it walking up Grafton Street and passing through clouds of warm steam on these cold autumn days."
Urinating in public in Dublin was famously celebrated in the song Dublin Saunter: Dublin can be heaven / urinating at 11 / as you stroll through Stephen's Green.
Dublin City Council previously tried to undermine the right to pee in public by providing portable toilets.
Department for Getting Ratarsed opposes plans to end drink sponsorship
Monday, 8 October
Government departments have been campaigning against the Government's plans to end sport sponsorship by the drinks industry.
The Department for Getting Ratarsed Drunk and Cheering During Tourism, Culture and Sport Events Without Knowing Who Is Participating was particularly vocal in its opposition to the plans.
The Hennessy Department for Agriculture, Fisheries and Food also argued against the ban.
The two departments suggested sports bodies should instead "work towards" phasing out the sponsorship over a couple of drinks.
Reilly's risqué attitude could mean he's 'gone native' in HSE
Tuesday, 9 October
Observers fear Health Minister Dr James Reilly could have fallen under the influence of HSE culture as he increasingly behaves in a provocative manner.
The HSE has warned staff that they face disciplinary action or the sack for dressing provocatively or showing too much flesh.
"It doesn't help if the Minister himself has a provocative attitude and is flaunting his assets Gangnam-style," a HSE spokesman.
"It's the real reason Róisín Shortall resigned, if the truth be told," a source in the Department of Health said.
"She was so distracted she couldn't get any work done."
IMF official unaware austerity hurts, likes lobster and fine wine
Tuesday, 9 October
An IMF official today admitted that he wasn't aware austerity could be a bad thing.
Speaking over a lobster lunch in a Michelin-starred restaurant, the official admitted he had no first-hand experience of austerity.
"It's difficult to gauge these things when you don't pay any tax," he said. "Are you paying for this or will I put it on Ireland's bill?"
Bank of Ireland asks customers not to give it any money
Wednesday, 10 October
Bank of Ireland will no longer allow customers to pay credit card bills with cash because it is no good with money.
After years of soul-searching the bank realised it would be irresponsible to continue to handle customers' cash.
"You come in to pay a bill in good faith and the next thing we know we have our names on our golf balls and we're teeing off at Sandy Lane," a spokesman explained. "We're no good with money. Please don't give us any."
Enda's Playboy posing prompts rift with Rosanna
Thursday, 11 October
The glamorous world of Irish modelling was in turmoil last night after it emerged that Enda Kenny had followed Rosanna Davison on to the cover of Playboy magazine.
Ms Davison was believed to be furious that her great rival had copied her.
"Does he have to do everything I do?" she may have screamed.
Mr Kenny, famed for his natural complexion, insisted he wore no makeup – and little else – for the shoot. "I didn't need any," he said cattily.
Sources close to Glenda Gilson said she wasn't going to take sides in the argument.
Cern scientists find 'Governing particle' in Irish government
Friday, 12 October
Scientists at Cern in Geneva have said they are close to discovering the 'Governing particle' in the Irish government.
"We are almost certain that we will be able to announce its existence within a few days," a scientist said.
The extraordinary breakthrough follows the monitoring of peculiar behaviour among Irish government politicians in the last 48 hours.
"They are definitely showing signs of governing," an analyst said. "But it's more likely to be a random outbreak of authority that will quickly descend into farce."