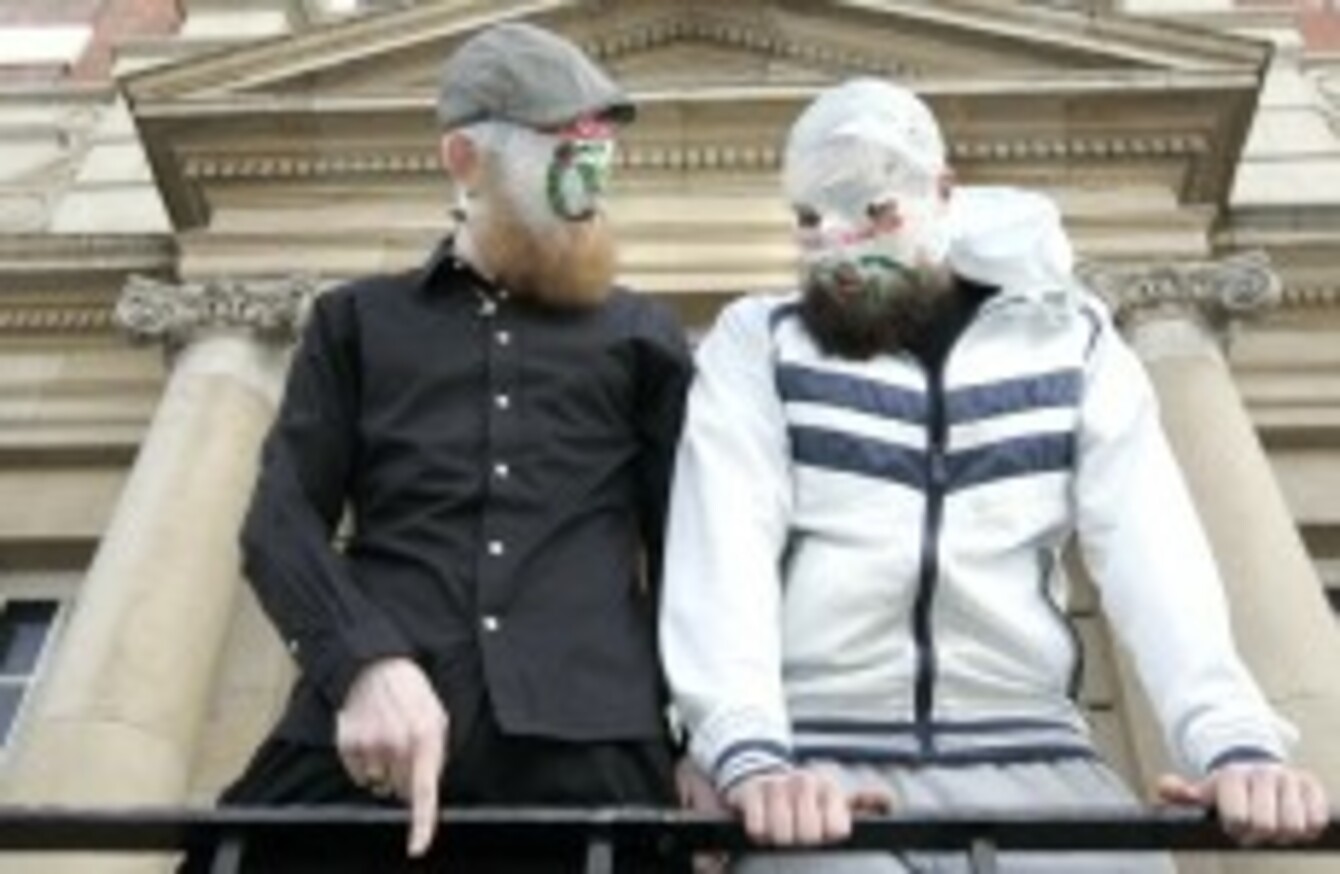 Image: Mark Stedman/Photocall Ireland
Image: Mark Stedman/Photocall Ireland
BLINDBOY BOATCLUB of the Rubberbandits made an impassioned call for discussion on the link between mental health and drug use on Newstalk tonight – all while on "legal yips".
In case you've been under a rock: The Dáil sat late tonight to push through emergency legislation after a court ruling this morning made drugs like ecstasy, ketamine and crystal meth legal (at least until Thursday).
With songs like Bag of Glue and Double Dropping Yokes with Eamon de Valera, the Limerick hip-hop duo were obviously very tickled at this news.
They first expressed a desire to go on Joe Duffy while 'under the influence':
Then they had their 'challenge' accepted by Newstalk's Tom Dunne – BlindboyBoatclub claimed he would be appearing on the show "while on legally consumed yips":
Blindboy greeted Dunne by saying: "Let's just say, my legs are having an argument with my shoulders over how much rent my body is charging."
But when asked if he was on a (briefly) 'legal high', he was vague:
OK, I'll be honest. I'm on a yoke, but if we take a 'yoke' to be a colloquial term for an object that could be anything, I mean – I'm standing on a yoke right now.
The chat didn't stay light and breezy for long, though – Blindboy went on to astutely discuss the links between drug use and mental health.
We need to move towards a conversation about mental health. I'm not into telling adults what do do – but any time you get a pang in your body for any substance, you have the opportunity to ask yourself, using interpersonal emotional intelligence: Why do I want this substance right now?
If you're stressed for an exam and you want to smoke a fag, ask yourself: Why do I want this? You might find out that you don't want that substance any more. At the core of all of this we've got a mental health discussion. It's hard to have rational mental health, when the drug laws themselves are irrational.
Listeners were pretty impressed at this high level of chat from someone claiming to be under the influence:
But it all came back down to earth with Blindboy's sign-off:
Will you play something off The Prodigy Experience? Anything off The Prodigy Experience? Tom, I really love you.
Listen to the full interview here.