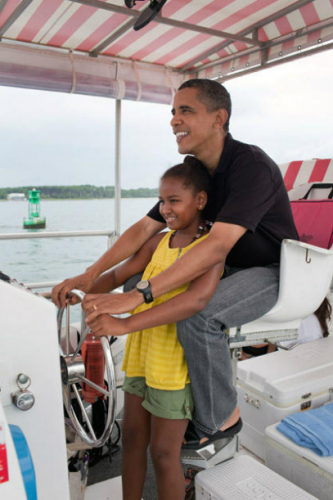 Here is a picture of Sasha literally steering the ship because this is a piece about her figuratively steering the ship.  See what we've done there? Barack Obama/Twitter
IT WAS NO surprise to us when Barack Obama looked to his daughter Sasha for approval upon his second inauguration to the White House.
It's obvious that she's been running the place for ages, and here are 10 examples which prove it.
"I told you the dog was a good idea, it'll read well with women."

AP Photo/Gerald Herbert

"I look forward to hearing your views on how we can progress. I'll give him my phone and he can play Angry Birds. He loves that."

AP Photo/Carolyn Kaster

"And then she said she could see Russia from her house! AH HA HA...HA HA..."

AP Photo/Carolyn Kaster

"I told you! I said 'look in Pakistan' but you wouldn't listen, and where did you find him? Pakistan. That's why I'm in charge."

AP Photo/Cliff Owen

"Israel/Palestine? Now that IS a doozy."

AP Photo/J. Scott Applewhite

"Listen, Putin is tough but you have to be firm. Repeat after me, 'I am the President of the United States. I have the power.'"

AP Photo/Carolyn Kaster

"Higher, no even higher. We need to raise this debt ceiling as high as possible."

AP Photo/Charles Dharapak

"Let's take a walk. Now talk to me about this oil spill."

AP Photo/Carolyn Kaster

"I told him to say that."

AP Photo/Charlie Neibergall

"Nailed it. Good work."

Carolyn Kaster/AP/Press Association Images