CAN YOU BELIEVE it's been a year since Sherlock season 3 graced our screens? It's going to be a long wait until we finally get some new material, but fans will be excited to hear that the cast and crew began filming this year's special episode last week in Bristol.
Here's everything we know about the special episode so far, and what we might expect in Season 4. There will be spoilers.
What's the Christmas special all about?
We have but one official clue, and that is this photo, which was released by Sherlock producer Sue Vertue back in November: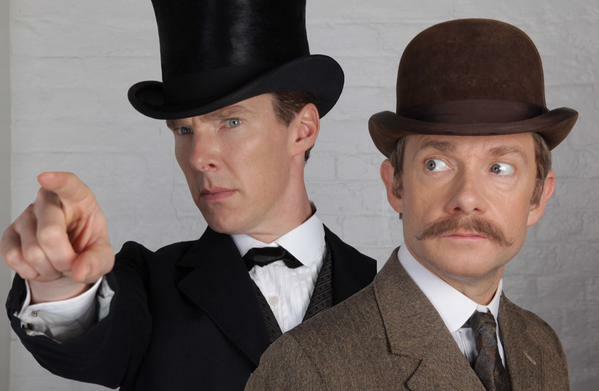 Twitter Twitter
The photo features Sherlock and John in Victorian garb, leading fans to believe that the special will be set in the past (and that John has his mustache again).
It was initially thought to be a Christmas special, but Mark Gatiss (who both writes for the show and plays Sherlock's brother, Mycroft) has said that it is just a special for the series, rather than a holiday episode.
The cast and crew have begun shooting the episode at Colstan Hall in Bristol – Cumberbatch and Freeman have been snapped by fans wearing similar costumes to the photo above.
Crossmap.com reports that the "Victorian vaulted cellars" of the music venue will be the backdrop to some of the scenes.
Mark Gatiss tweeted this mysterious silhouette, presumably of Sherlock, along with a quote from the Sherlock tale The Adventure of the Blue Carbuncle.
Besides Cumberbatch and Freeman, other main cast confirmed for the special include Amanda Abbington (Mary Watson), Jonathan Aris (Anderson) and Louise Brealey (Molly Hooper), who has been tweeting from the set:
Actress Natasha O'Keeffe, known for her roles in Misfits and Peaky Blinders, was also spotted on set in a wedding gown. Oooh.
What about Season 4?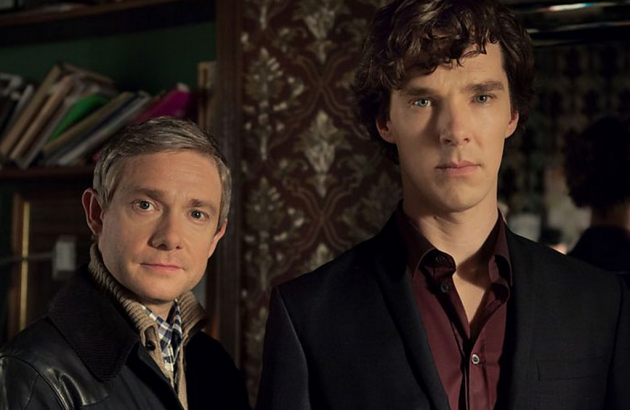 BBC BBC
According to the BBC, the crew plan to get the special completely out of the way before tackling Season 4, so very little is known about it so far.
But to summarise where we left off in Season 3:
Sherlock has been exiled from the UK after killing the big Bad, Magnussen;

John's wife Mary is pregnant, and has a super secret past we know very little about;

And Moriarty has somehow reappeared despite shooting himself in the face at the end of Season 2.
So there is much to address.
Mark Gatiss has said they are still trying to agree on dates to begin shooting season 4, as both Cumberbatch and Freeman are very busy. He did say, however, that they had made "significant progress". Hmm.
When will Season 4 and the  air?
The one-off Christmas special is expected to air in 2015, but we'll have to wait another year for full season, which is slated to premiere in 2016.
If you want to keep up with the production of Season 4 and the Christmas special, follow the hashtags #Setlock and #ShSpesh on Twitter.