AUTUMN MAZZITELLI RECENTLY moved to Victoria, Canada, with her two children. Her older daughter is set to spend Christmas with her dad, leaving her alone with her three-year-old son, Jessiah.
Mazzitelli decided she didn't want to spend Christmas alone in a new town, so she posted an ad on Craigslist looking for a family to 'adopt' them for the holidays.
Have you always wanted a daughter and a grandson? Do you have a daughter and/or grandson but they live too far away to return for Christmas this year?
Do you miss the pitter patter of little feet and adorably mispronounced words of a three-year-old boy? Do you need a hand with dishes after sharing Christmas dinner with a (slightly) eccentric 30-year-old single mother? If you've answered yes to any of the above questions, look no further, you've found the perfect solution!
"I wanted to eat with people, even if I did not know them. I was going to actively choose not to be alone," Mazzitelli told Global News.
Within two days, she had so many kind responses and offers of help that she decided to take down the original post.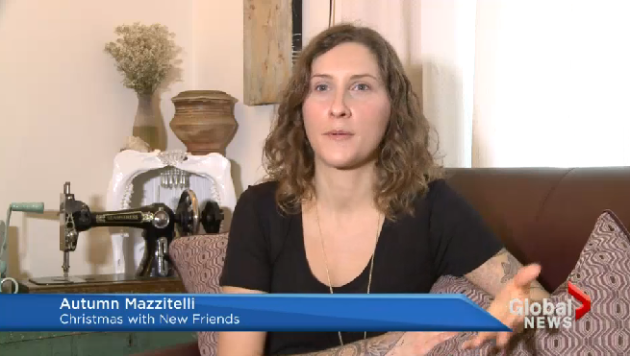 Global News Global News
She and Jessiah will now be spending Christmas with four different families – on Christmas Eve, they'll eat with a big family, and on Christmas morning, they'll visit an elderly person who lives alone.
At lunch, they'll go to a church gathering, then share their Christmas dinner with two women who recently lost their husbands.
Global News Global News
Mazzitelli said she's been getting messages from people who say they plan on reaching out to people too, instead of being alone at Christmas:
I have not exactly been dealt an easy hand in life. But I have always been OK because of my outlook and the fact that I always reached out when I needed someone. We live on a planet with seven billion people… We can only be lonely if we choose to be alone.