Welcome to Skin Deep with Louise McSharry, my opportunity to put years of obsessing over beauty products and techniques to good use. I won't tell you something is good if it's not. I won't recommend products I haven't actually tried. As the magical sitar in Moulin Rouge said, I only speak the truth.
THESE DAYS, PEOPLE often ask me about my eyebrows, but until I lost them, I never really cared about them.  Sure I'd attempted to butcher them with a tweezers during the height of '00s skinny eyebrows, but an intense propensity for sneezing the second a hair was plucked thwarted my efforts. I decided I'd just leave them. They were blonde anyway, and virtually invisible. It never occurred to me that the one thousand layers of mascara I applied to my equally blonde eyelashes might need some balancing out above my eyes. I simply accepted the fact that things were as they were, and left them alone.
Then, halfway through chemotherapy for Hodgkins Lymphoma, they were gone. Totally gone. Suddenly, I knew what invisible eyebrows really looked like, and what they looked like was sick. Every time I looked in the mirror that's all I saw. Sick. And I was convinced that that was all anyone else would see too. (Never mind the fact that I hadn't a hair on my head, it was the eyebrows that did it.)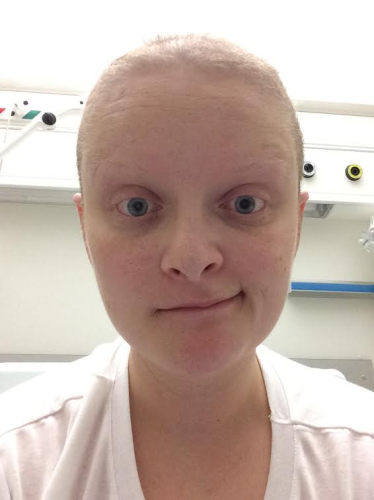 So, I set to work. I watched countless YouTube tutorials on how to fake the perfect brows, and ordered every product mentioned. I forced friends in London into the cavernous beauty hall in Selfridges to find elusive Japanese products which might produce the perfect hair-like stroke. I spent a bloody fortune, but in the end I figured it out, and as a result, I know a thing or two about brows.
When I say brows, I'm talking about real brows, or brows that look like they could be produced by a human being. I'm not talking about the Scouse brow or the Instagram brow, all perfect fades and sharp angles. If that's your bag, cool, but at the end of the day, I want my eyebrows to look like eyebrows. Fortunately, this also lends itself to a bit of looseness with application, and means you can accept that your brows are in fact sisters rather than twins. They don't need to look identical. They don't need to be perfect ticks. They don't need to have sharply tapered ends. You do, however, need to see them.
For this reason, I start my routine by roughly giving the girls a shape and filling them in. If you already have dark brows, it may simply be a matter of filling in some gaps. If, like me, you're very fair and haven't been to get your brows tinted in eight months because your bloody baby is a parasite sucking every spare moment and spark of energy out of your life, you may need to fake the whole things. I start by drawing a rough line along the bottom of my brow to the bend then one along the top. I follow this by drawing in the pointed end, and filling in the gaps between the two original lines. Finally, I use the excess product on my brush to shade in the sparser patch at the start of my brows. You don't want this to be quite as dark as the rest of your brow because the hair is naturally less dense there. You can lighten with a cotton bud if you overdo it.
There are many product options here, some people like a powder (even a matte eyeshadow can do the job), others prefer a pencil. My personal favourite is a gel/wax combo because it's one simple step - Laura Mercier's to be exact. I've had my little pot for two years and it's still going. I also love the Laura Mercier brush, which has a classic end and a thin end for detailed work toward the narrow end of your brow. Makeup Forever also do a super eyebrow product which is waterproof, so extra good if your own are barely there or you're going through an illness which may mean copious amounts of sweating. (I will never forget the copious amounts of sweating.) Sleek's brow kit is a great budget product and a favourite of many. Simply use the wax to shape your brow and then use the powder to add colour, blending with the wax as your go.
Once the shape is done and you've filled in any patches (slash created a brow out of nothing), a brow mascara is great to take the 'done' edge off. It will highlight some of your actual hairs and make them look a lot more natural. Lots of people swear by Benefit's Gimme Brow, and it is excellent, but this is one place where I believe you don't need to spend a lot of money. Maybelline's Brow Drama Sculpting Mascara is my go-to, and I've recently been using Kiko's Eybrow Fibers Coloured Mascara too. (Kiko is great, and very inexpensive, but only available online in Ireland at the moment. Be sure to pop in to a shop if you pass it on your holidays on the continent.)
That's it. It sounds simple, and the old pros among you won't have learned anything here, but I can not tell you how many people ask me about brow basics. If you've never tried doing anything with yours before, it'll take a bit of practice, but you'll get there in the end, and soon, no one will know that you're an Invisibrow like me!
New Product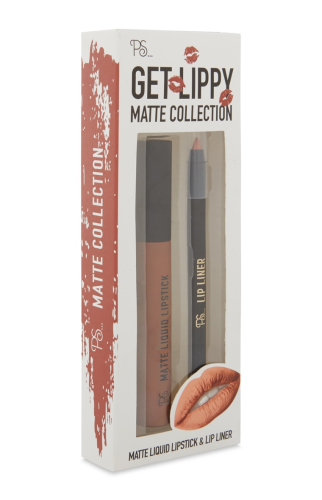 Primark Primark
Ok, this product is a couple of months old, but lots of you have asked me what I make of Penney's lip kits since I mentioned Kylie's in my first column. I picked one up to try, and they're actually very good. The formulation is solid, the pencil glides on easily and the lipstick is comfortable (as liquid lipsticks go) and long lasting. If they expand the colour range I reckon, they're onto a winner! I mean, where would you be goin' for four euro?
DailyEdge is on Snapchat! Tap the button below to add!