EVERY WEEKDAY MORNING, DailyEdge.ie rounds up the best of the day's celebrity dirt – from the top to the very bottom.
#WHAT…THE HELL: Suri Cruise, the daughter of Tom Cruise and Katie Holmes, is bringing out her own fashion line. (The Sun)
Seriously, we're not making this up.
The seven year old has apparently signed a deal, (how did she sign?  By drawing a flower or something?  WHAT IS GOING ON IN THE WORLD?!?), worth £1.5 million, and will launch the line for girls in a New York department store in the Autumn.
According to a source: 'She has been through a difficult year…this is a nice hobby for her.'
Will we just give up now, lads?
#BACK TO THE FUTURE: Either Jay-Z is a time traveller or he has an incredible doppelganger who was his age in the 30s, because this  is unbelievable. (Digital Spy)
Discovered by researchers at the Schomburg Center for Research in Black Culture, the below image was taken in 1939 by photographer Sid Grossman.
Recognise anyone?
Can the Illuminati time travel?  Because if they can then maybe the conspiracy theorists are on to something.
#JOE ON TOP: X Factor winner Joe McElderry sang with Beyoncé at her Manchester gig the other night. (The Mirror)
The thing is, she didn't have a clue who he was.
As she began to sing Love on Top, she put the mic up to one of the slightly hysterical crowd members lips and was surprised at the person's singing ability.
Little did she know, it was the little man from Newcastle who beat Olly Murs in the final of X Factor.
The quality here is a little dodgy, but you get the idea.
YouTube/laurenwhitnall
Naturally he was a little excited.
Bless his cotton socks.
And the rest of the day's dirt…
There is a big announcement coming from One Direction, but we've no idea what it is.  (The Mirror)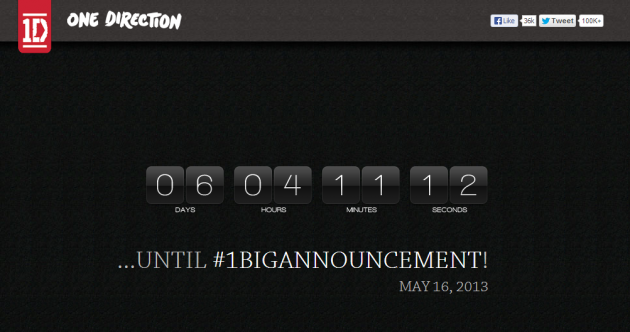 Snoop Dogg pimped out women during his 2003 tour.  Gross. (The Sun)
TOWIE and Celeb Big Brother personality Kirk Norcross 'accidentally' tweeted a dirty picture of himself last night. NOT IN THE LEAST BIT SAFE FOR WORK.  (Twitter)