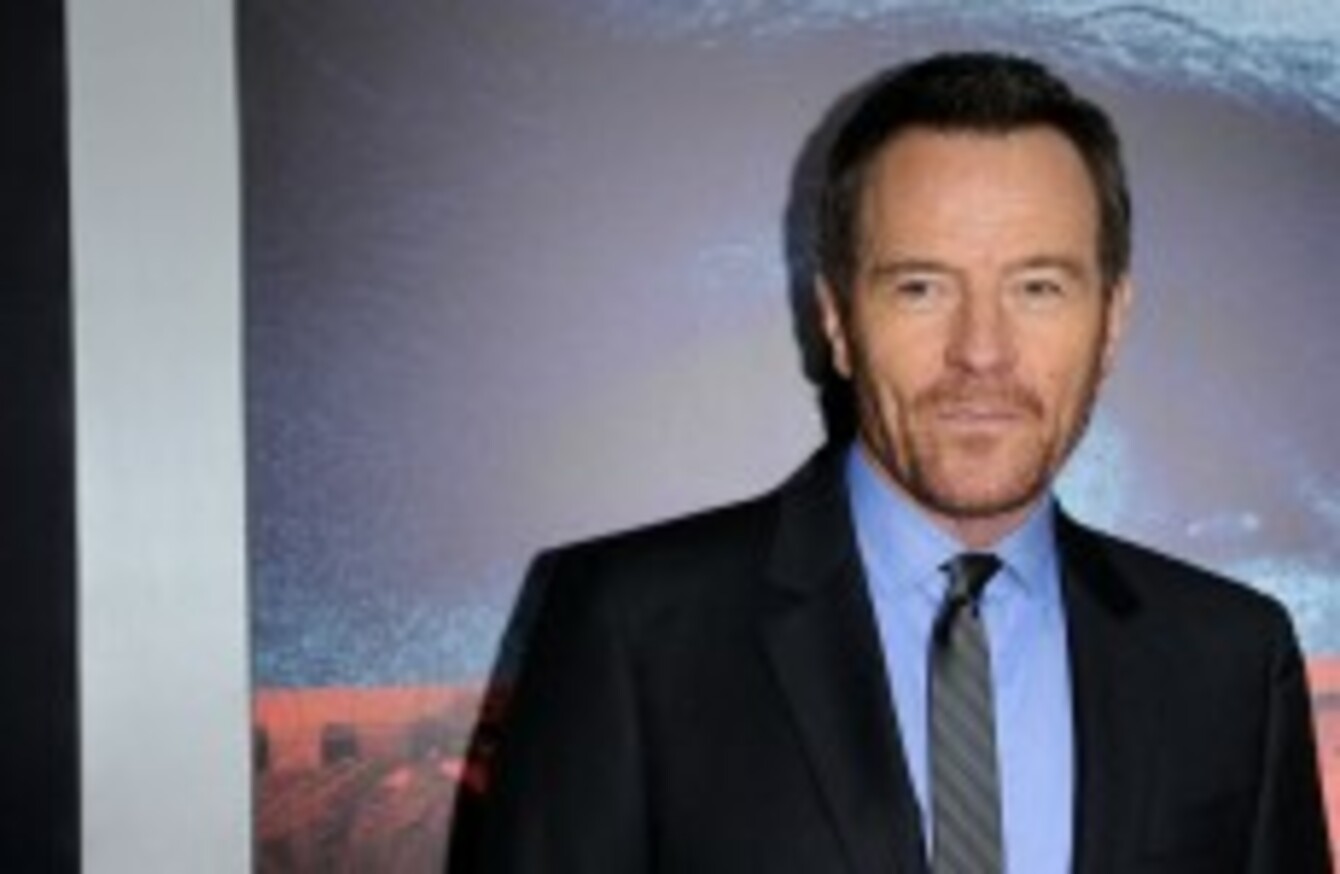 "Ah heeyurre, leave it ouuh Walter"
Image: Vince Flores / AFF-USA.COM/UK Press/Press Association Images
"Ah heeyurre, leave it ouuh Walter"
Image: Vince Flores / AFF-USA.COM/UK Press/Press Association Images
EVERY WEEKDAY MORNING, the Daily Edge rounds up the best of the day's celebrity dirt from the top to the very bottom. Here's The Dredge.
Breaking Bad star Bryan Cranston is due to arrive in Dublin today to promote his latest film Argo, and no doubt hear 'Howayeh Walter?' shouted at him at least 17 times.
He'll be in the Savoy Cinema on O'Connell Street tomorrow at 7pm to introduce the Irish premiere of the film, which is directed by Ben Affleck and also stars Alan Arkin and John Goodman.
Here at The Daily Edge we also received a report yesterday that Leonardo DiCaprio had been spotted in the city centre, on Mount Street to be exact. If Bryan Cranston and Leo end up hanging out together in Dublin we need to be there, preferably swapping phone numbers and generally becoming best mates.
That's if it was in fact Leonardo DiCaprio. It may have been his Irish cousin Leonardo McCaprio. If you see either of them, let us know (tips@dailyedge.ie).
Cranston tweeted this morning that he's just been in London, and met up with his Breaking Bad co star Aaron Paul, who's there shooting a film.
The Words
Famous Five: One Direction's TV3 special will hit TV sceens tonight, with Karen Koster delving deep into what's been going in the lads' lives over the past few months. Mullingar's own Niall Horan has been getting close to US X Factor judge Demi Lovato by all accounts, calling her "Demi-Tomato". Bring her to Mullingar Niall… give us a look at her. (TV3)
Karen put on a good frock for the occasion (Tv3)
Happy Birthday: Jedward celebrated their 21st birthday in Dublin last night with celeb guests like Louis Walsh and, er Linda Martin. The party was in No 37 on Dawson Street, and the twins obviously had a good time… they tweeted "Zzzzz Crazy time to Sleep" at around 5am this morning, the bold pups.
Jedward with their brother Kevin, who's rumoured to be dating Tara Reid. Yes, THAT Tara Reid (Niall Carson/PA)
Terrible: That's what JK Rowling thinks of 50 Shades of Grey, even though she hasn't even read it. The Harry Potter author said her new book The Casual Vacancy also features people who have sex "but no one enjoys it". Quick, to Easons with us! (Perez Hilton)
"Read my book… it's full of crap sex" (Ian West/PA Wire)
The Dirt
Megan Fox and Brian Austin Green (David from Beverly Hills 90210, remember) have welcomed a baby boy Noah into the world. (Daily Mail)
Georgia Salpa is heading to Hollywood to star in a reality TV show, after talent bosses got a load of her goodies when she paid them a visit. (Irish Sun, Irish Daily Mirror)
Adam Clayton's luxury New York apartment is for sale… three bedrooms for €10.6 million? A bargain. (Irish Daily Star)
Bubba The Love Sponge's wife (the one in the Hulk Hogan sex tape) has made similar tapes with other famous celebrities apparently. Shudder. (Radar Online)
The Barrel Scraper
A question posed by a TMZ camera man to wannabee US VP Paul Ryan. Step away from the Homeland box set Mr Cameraman (TMZ).