"You can call me Michael" (Photo by Chris Pizzello/Invision/AP)
#DAN HATHAWAY Anne Hathaway says she wasn't too shocked when she saw her reflection after shaving off her hair for her role in Les Miserables… because she just looked like her brother. (New York Daily News)
At a screening of the film in New York last week Hathaway said:
When I eventually looked in the mirror I just thought I looked like my gay brother.
Hathaway and her family left the Catholic Church a few years ago because of its stance on homosexuality. She said "why should I support an organisation that as a limited view of my beloved brother?".
Hathaway has also told Vogue that preparing for the role of prostitute Fantine in Les Mis left her in a "state of deprivation… physical and emotional".
Have a look (and try not to cry):
YouTube/ENTV
#ALL THE NOSY LADIES We're finally going to get a look behind the scenes at the coolest family in the music biz.
Beyoncé has confirmed that a documentary about her life, directed by her, will air on HBO in February. (MTV)
In a statement the singer said that the film will live up to HBO's history of "pushing every boundary with class and authenticity".
We just want to see Jay-Z changing nappies, to be honest.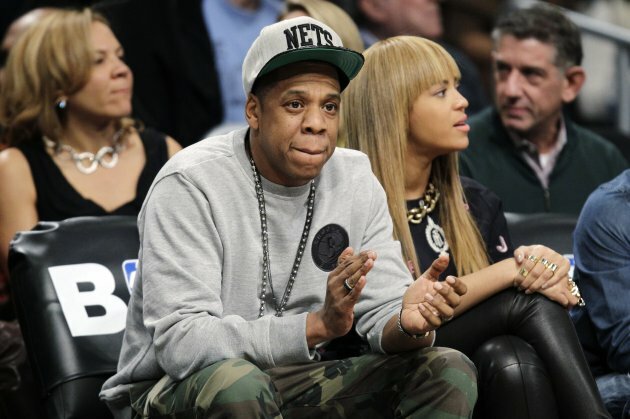 "It's your turn". "No, I did it this morning" (AP Photo/Kathy Willens)
#REALLY? There are two bits of surprising info to follow…
(i) Kerry Katona is on her second autobiography.
(ii) In it, she reveals that she begged Brian (née Bryan) McFadden to take her back the night before she got engaged to Mark Croft. (Daily Mail)
McFadden was with Delta Goodrem at the time though, and said no.
(A second autobiography. Really?)
And the rest of the day's dirt:
Speaking of Brian (née Bryan) McFadden, his wife Vogue says she recently taught Kenny Dalglish all about the Kardashians. As you do. (Twitter)
Helen Flanagan, who has now sadly left I'm a Celebrity, says her boobs get bigger every time she eats (Mirror)
Jessica Simpson's post-baby weight loss plan has been 'revealed' (by Weight Watchers. Who were paying her) (Irish Independent)
Depeche Mode guitarist Martin Gore has said that Simon Cowell should be shot (Mirror)
Robbie Williams thinks One Direction will be as powerful as the Spice Girls (Entertainmentwise)
For more, follow @dailyedge on Twitter and like The Daily Edge on Facebook.