ITV ITV
LAST CHRISTMAS, A woman named Amethyst Realm appeared on ITV's This Morning and captivated Phillip Schofield and Holly Willoughby with tales from her love life with ghosts.
It all began when she had her first encounter 13 years ago. Her fiance had been travelling for work and he arrived home a bit earlier than expected, only to find that he could see his wife-to-be through the window and she was in bed with the silhouette of another man.
Since then, she has forgotten all about mortal men. Amethyst told the presenters, "One you go ghost, you never go back."
Now, eight months later, Amethyst has proven that she wasn't joking around when she said she'd never go back. This time speaking to Eamonn Holmes and Ruth Langsford, Amethyst revealed that she has been in a relationship with a ghost she met in Australia for six months.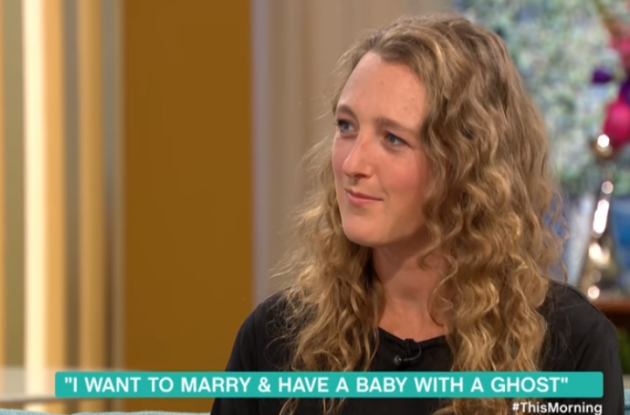 ITV ITV
On the plane home from Australia, she was sad about leaving her spirit boyfriend behind, as she has learned from experience that spirits tend to be static. All of a sudden, she was surprised by the realisation that her boyfriend had decided to join her on the plane back to the UK.
Ruth asked Amethyst about her experience on the plane: "You said that you on the flight back from Australia, you did actually go into the loo and do what some people do…"
I'm a member of the mile high club. Yes.
"Why did you need to go into the loo to do that if nobody can see that presence there?" Ruth asked.
I don't know. I wouldn't be able to get into it on the seats, I guess.
This Morning / YouTube
Amethyst said that her connection is so strong with her new spooky boyfriend, that she hopes she will have either a spiritual or physical baby with him. Eamonn asked, "So you and this person, are things good with you at the minute? Do you go on date nights?"Amethyst replied:
Yeah, things have been really good with us. We're hoping to get a hand-fasting ceremony soon. It's kinda like a spiritual marriage.
Eamonn was very curious about how dating works with a ghost. "So, even though he's been around a thousand years or so, would he go to the cinema or things with you?"
Yeah. We went to the zoo the other week.
DailyEdge is on Instagram!