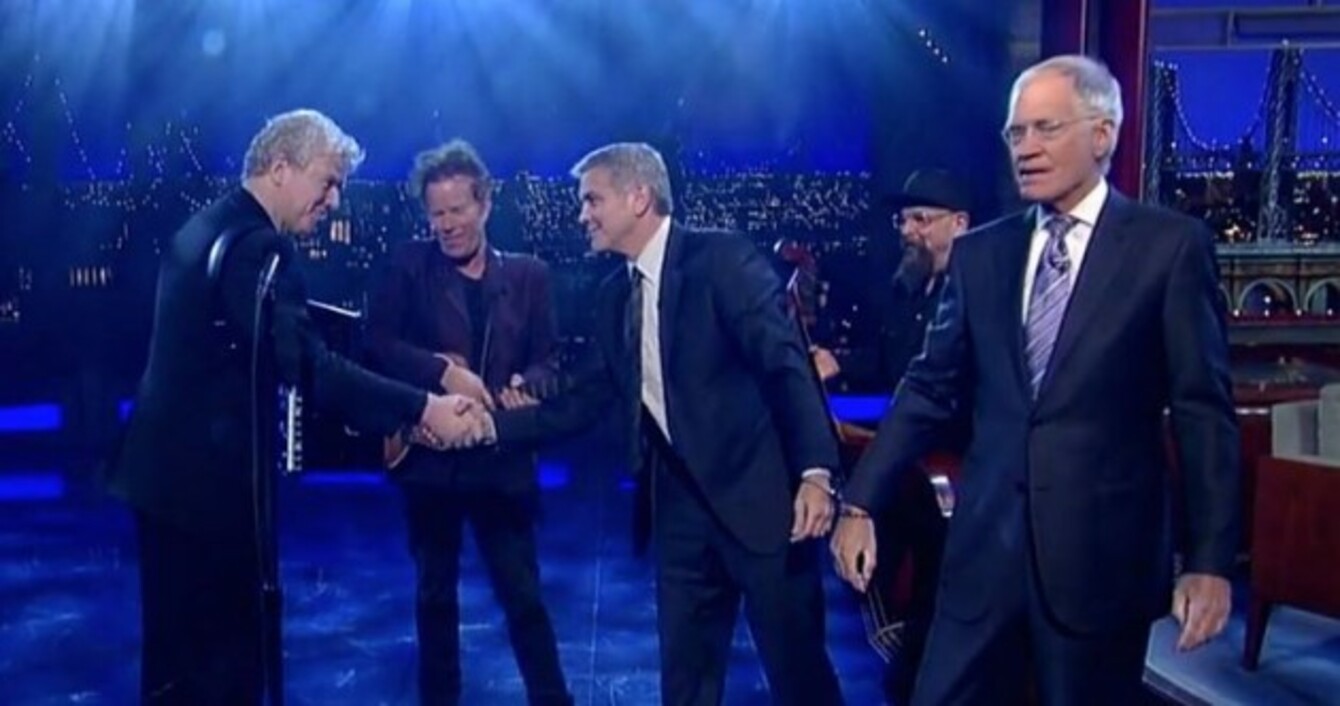 Image: Facebook
Image: Facebook
Updated 5pm
ON THURSDAY NIGHT legendary songwriter Tom Waits played a very special new song on US TV.
"This is for you, Dave", he said before he played Take One Last Look, as a tribute to David Letterman's final shows as the Late Show host after 32 years.
To Waits' left was a bass player, and on his right a man he had never played with live before - Galway man and accomplished musician Gabriel Donohue.
Donohue met Waits at a funeral. His father-in-law's funeral to be exact.
Waits needed a tenor to sing at the memorial service and when word came through to Gabriel Donohue that he was looking for a performer, he recommended a friend, who brought Gabriel along to accompany him.
I got up to leave the memorial because I had to go and play at a gig, and I handed Tom Waits my card.
Donohue, originally from Athenry (well, between Athenry and Loughrea if we're being picky) told DailyEdge.ie that being a multi-instumentalist he has all of the instruments he plays listed on that card. He knew Waits had heard him playing in the church and he knew that he had liked it, so he took a chance.
When the time came for Waits to work on this new song, a song with a distinctive folk sound, he knew just the man to call.
It was pretty unlikely for him to find a musician out of the blue like that, so I kept thinking 'he's probably not going to go through with this'
said Donohue, who left Ireland for New York in 1978, finally settling in Philadelphia, where he now lives.
But Waits did go through with it, rehearsing with Donohue the day before the Letterman appearance.
He was very specific about what he wanted. He didn't want any strict tempo. Originally I was going to play the pump organ but we went with the accordion in the end. He only wanted the high notes, and we weren't locked into any rhythm.
Source: Late Show with David Letterman/YouTube
George Clooney was also on the Letterman show on Thursday, handcuffed to the host in a bid to get him to stay.
Donohue said he was the perfect gentleman, holding elevators and staying on stage with them throughout.
Waits and Donohue talked Ireland together; how the former had spent a month in Tralee when he first met his Irish wife, how he has spent many months here since. He also heard that Waits wrote his classic 1973 song Hope That I Don't Fall in Love With You in McDaid's pub in Dublin.
A spokesperson for McDaids told DailyEdge.ie that they were unaware of the story. The pub changed hands in the early 1970s.
DailyEdge.ie is attempting to verify the information with Wait's representatives.
Tom Waits doesn't tour much these days, but Gabriel – who has toured extensively with The Chieftains in the past – said he hopes if he does, he might get the call.
He whispered to me right before we went on Letterman; 'first time', and I thought that's kind of cool, maybe there'll be another time.