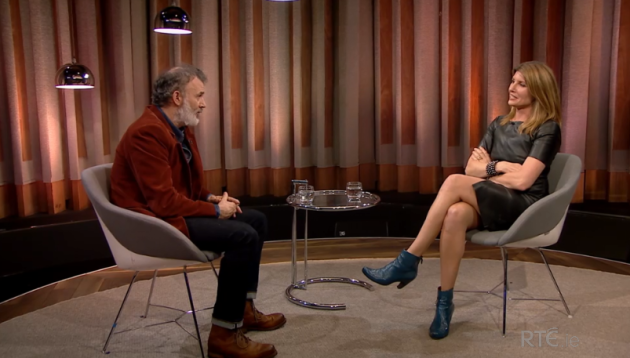 RTÉ RTÉ
IN THE LATEST episode of Tommy Tiernan's talk show, he spoke to Irish actor, writer, director and producer Sharon Horgan.
If you're unaware of the premise of Tiernan's chat show, it's entirely improvised. Tommy Tiernan has no clue who the guests on his show will be until the moment they walk out on stage. Because of this, no research is done to prepare him for who he's speaking to, so it plays out fairly differently to your average episode of Graham Norton or the Late Late.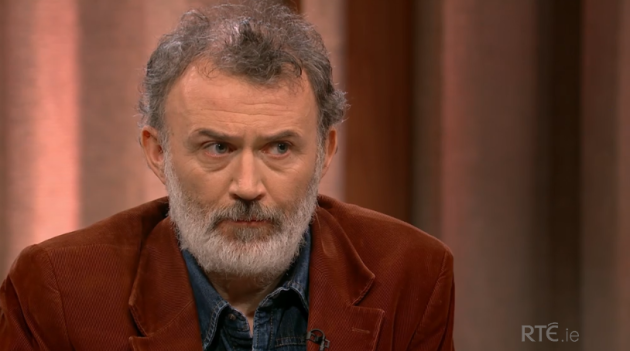 RTÉ RTÉ
Viewers were immediately very conscious of the fact that Tiernan spent an inordinate amount of time discussing Sharon's kids.
Video won't play? Click here. 
Fair enough, there was no preparation, but Sharon's a busy woman with plenty more to discuss than raising her kids. How often do we hear male directors, actors, writers and producers asked how they manage to juggle working and raising kids?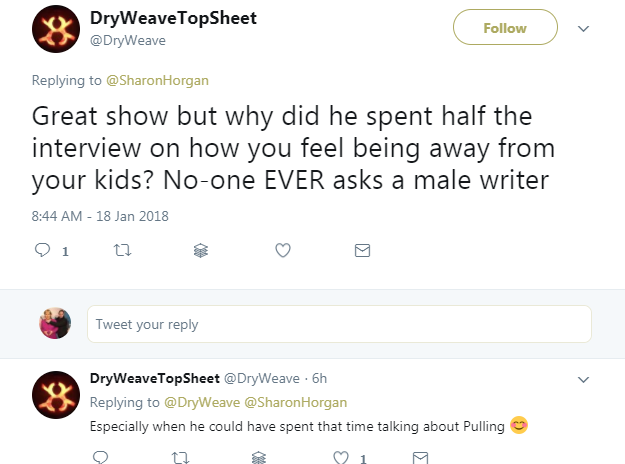 DryWeave / Twitter DryWeave / Twitter / Twitter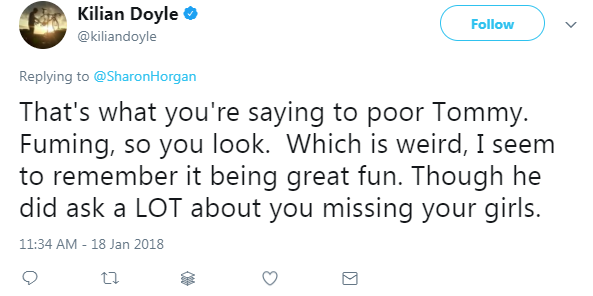 Killian Doyle / Twitter Killian Doyle / Twitter / Twitter
 Apart from the whole "abandoning" her kids stuff, Sharon was asked another question that no man would ever be asked.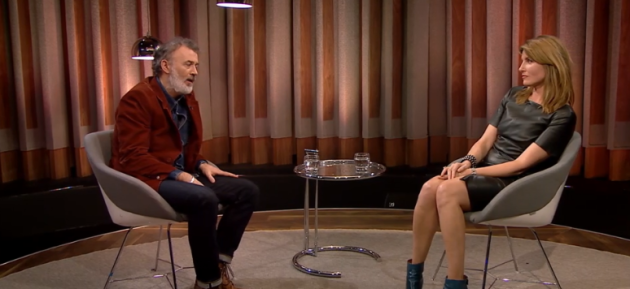 RTÉ RTÉ
Tommy asked "Is it very different, for a woman in this industry, than it is for a man?" Think of Ryan Tubridy sitting down on the Late Late and asking any actor about anything other than their work. Wouldn't happen. Sharon simply replied:
Well. I don't know, not being both of those things, but em…
Tiernan tried to rephrase the question, but Sharon continued.
I got into comedy at a time where there was very few women around, so my experience of it – and I know that I'm very lucky and this is unusual – but it was a good experience in that I benefited from the lack of female voices around. I was like the token female. I think people have realised that women are just as capable of telling stories that have a universal appeal as men are.
Sharon's good luck aside, she acknowledged that comedy is a boys club and said that despite the fact it's such a "liberal world", it's still a pretty traditional place and has only recently become an area where women are welcomed.
DailyEdge is on Instagram!