SOMEBODY IN TV3 has eagle eyes.
The station's spokesperson has got in touch to point out that on Sunday night's RTÉ Nine O'Clock news the TV3 microphone logo was blurred out during the broadcast.
The omission was spotted when the Eurovision item was being introduced by newsreader Aengus MacGrianna. When the news package itself was broadcast however, the logo magically reappeared.
An RTÉ spokesperson has told TheJournal.ie that:
It is not RTÉ News editorial policy to remove logos. Yesterday the TV3 logo was taken out of one shot by a non-editorial member of staff who was not instructed to do so. This was the shot on the screen image behind the newsreader. The logo was shown in the same shot in the package which followed.
See for yourself: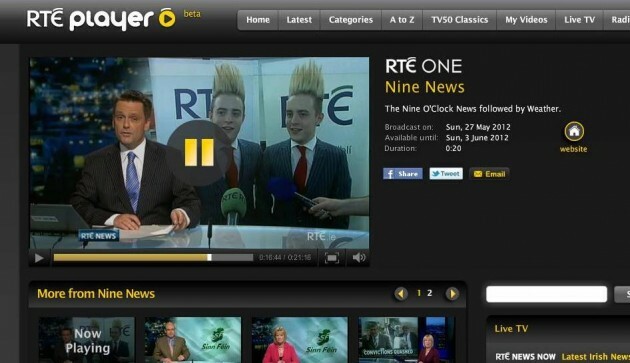 Images via TV3 via the RTÉ Player
TV3′s spokesperson told TheJournal.ie that they've never engaged in similar tactics on their own news broadcasts.