SHELAGH FOGARTY, A presenter on BBC Radio 5Live, found herself conducting an interview in an unusual manner yesterday when a mouse appeared in her studio mid brodacst.
Mid-way through interviewing her guest Mike Linnell, the pair noticed a mouse had made it into the studio. Fogarty, in what you could call a fairly universal reaction, jumped up on her chair before attempting to wrap the interview.
Of course in the days of web-cam based coverage radio shows, the moment was captured to relive forever. And even posted to YouTube by the BBC itself. We're sure Shelagh is delighted.

YouTube/BBCFiveLive
Clearly aware of the hilarity of the situation, Shelagh discussed the incident on Twitter, first by tweeting former BBC Royal Correspondent Jennie Bond, who famously appeared on I'm A Celebrity, Get Me Out Of Here in 2004.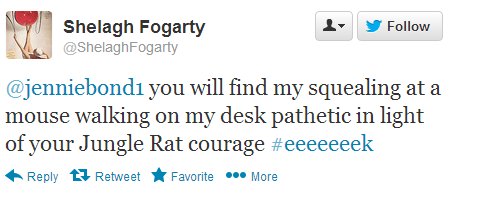 She admitted that despite her extensive experience with tsunamis and such, her mouse run in was definitely the scariest.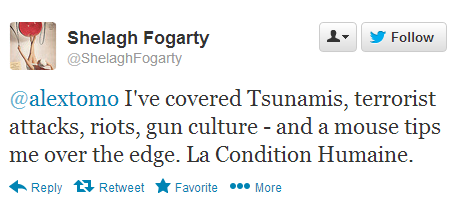 Amid numerous tweets to listeners, Shelagh got all philosophical.
And in no time, the mouse had its own Twitter account @MediaCityMouse that was tweeting Shelagh and even gunning for a move to a bigger station mere moments ago. How meta.

Either the mouse or Shelagh is going to end up on Celebrity Big Brother / I'm A Celebrity / Dancing On Ice etc within the next 12 months. We can feel it.