AS BRITNEY SPEARS sang so memorably: "They say I'm crazy – I really don't care."
Well, here at DailyEdge.ie we don't care either. What we do care about is getting you the most crazy, most wonderfully weird and most downright unexpected news every Saturday morning. 
So let's do it. 
A woman in California, Shirley Brown, came home to quite the to-do last week – her house was filled with 200 or 300 birds. Out of nowhere. Ms. Brown thought that the birds were maybe just tying to get away from a storm, but as of last night, they kept coming back every evening at the same time. Didn't Hitchcock make a movie about this? (KMPH FOX 26 News)
Astronaut and University of Connecticut alumnus Rick Mastracchio is to deliver his graduation address FROM SPACE! The 54-year-old space man will give the speech from the International Space Station, delivering it to 400 graduating students and their families via video. Can you hear me, Major Rick? (AP)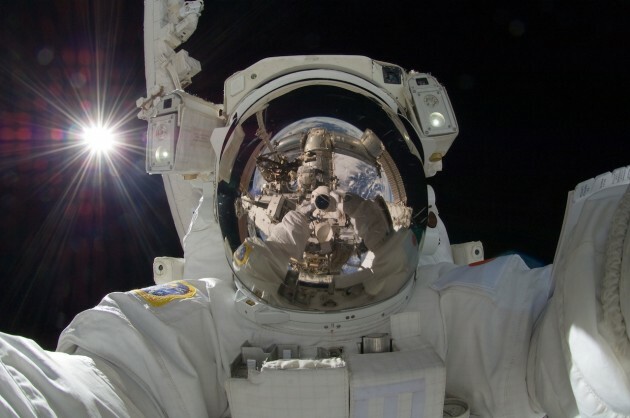 Imgur Space selfie Imgur
Lorena Bobbitt has spoken out after 21 years about the famous crime she committed. Yes, the crime of cutting her then-husband's penis off. Yes, it's THAT Lorena Bobbitt. She spoke out, revealing she has subsequently married another man and said: "Believe it or not, I had quite a few gentlemen that wanted to date me." So there you go. There's a shoe for every foot.  Strangely heart-warming. (Mirror)
A Canadian town is being terrorised by a whale. A dead whale. A dead whale that is a ticking time bomb – just waiting to explode. Basically, the creature washed up on the shores of a tiny fishing community of Trout River in Newfoundland and is now slowly filling up with methane gas. The whale is 25 meters long and could weigh up to 180 tons and has bloated to twice its normal size. Sounds like you on the couch after a heavy night on the tiles, what? What? What? (DailyEdge.ie)
Swimmer Adam Walker was doing a chairty 25.7km swim across the Cook Strait in New Zealand for Whale and Dolphin Conservation when he was spotted by a great white shark, swimming beneath him. But then, a small pod of 10 dolphins came to his aid. The dolphins flanked Walker (more like Swimmer, eh), seemingly to offer him protection. They swam with him for an hour until he was clear. No smart comment about this one. That's amazing. (IFLScience.com)
Adam Walker / YouTube
A man in Vienna was making his way through a forest when he discovered a 10 foot python in his back pack. Austrian police are now on the hunt for the snake's owner, while a local pet shop are looking after it for the time being. Apparently the man was taking a stroll and stretching his legs after driving on a nearby highway. He'll think twice next time, eh? (HuffPo)
Hey you! Yes, you. You! Spotted any bizarre news in your local area? Let us know on fiona@dailyedge.ie pretty please with a cherry on top. Share the wealth! Ah, go on!