MAD ABOUT THE boy, isn't that how that old song goes?
Well, we're mad about the news.
Or, more specifically, mad about mad news. That's why every Saturday morning, DailyEdge.ie brings you the kookiest, craziest bites of news from around the world for your reading pleasure. 
Down, boy.
Emissions of gas from cows (yes, that IS a euphemism) sparked a methane explosion that damaged a building in Germany, according to police reports. "In the barn for 90 dairy cows, methane built up for unknown reasons and was probably ignited by a static discharge, exploding in a darting flame," said local police in the central town of Rasdorf in Hesse state. Good grief. We'll say nothing about the other half's emissions after an Indian on a Sunday night any more. (Mercury News)
An insurance company in California has paid out $12,000 after a court settlement – in dozens of buckets of coins, reports the Los Angeles Times. The pay-out was for an elderly man who claimed an employee assaulted him when he tried to purchase insurance. When Adriana's Insurance compensated him, they allegedly did so with buckets upon buckets of coins instead of a cheque. Oh, come on, everyone. Play nice. (Yahoo! Odd News)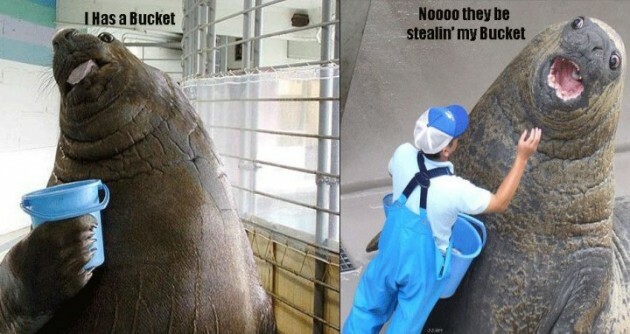 Imgur Imgur
A Philadelphia archaeology museum has found a 6,500 year-old human skeleton – in its own basement, where it had been lost to storage for 85 years. The Penn Museum lost track of the documentation for the specimen, but it turned up this summer during a digitising project jointly undertaken with the British Museum. Sure we've all got cash in the attic, eh? Or the basement. Whatever. (Reuters)
A teenager in Texas is facing life in prison charges for making brownies with marijuana and hash oil. The 19 year old is awaiting lab results to see how much hsah oil, or THC, was in the brownies that he is accused of making to sell on. The results could mean the difference between a life sentence and a reduced punishment range of 2 to 20 years or probation. More nerve-wracking than the Leaving Cert results, one could imagine. (USA Today)
AfromanVEVO / YouTube
Canadian radio station 90.3 AMP has started cutting songs right in half so that listeners don't get "bored". They're using a programme called Quick Hitz to edit them down, and therefore play "twice as many songs per hour than other top radio stations." According to the company's vice president, a lot of people can't even detect the music has been chopped around. You know what? Bored of this story now. (Alt Press)
A man is being fined for "pretending to be a ghost in a cemetery". Listen, I've never done this before, but I think that sentence is perfect as it is. I mean, sure – click the link if you want to find out more but, really? You're not really going to beat that one simple line. (The Scotsman)
Hey you! Yes, you. Reading this right now. Spotted any bizarre news in your local area? Let us know on fiona@dailyedge.ie.