EVERY WEEKDAY MORNING, DailyEdge.ie rounds up the best of the day's celebrity dirt – from the top to the very bottom.
Poor auld Westlife have gotten an awful going over by Simon Cowell who apparently says they were the world's ugliest boy band. (Heatworld)
Apparently, when the band first auditioned for him he thought they were all too ugly to have a career in pop.
Speaking to Jay Leno, Simon said:
I said to the manager at the time, 'Forget it,' 

And then they re-auditioned and one of the ugly ones dyed his hair blonde for the second time I saw them and he got back into the group.
However, as Simon himself said, it all worked out in the end with a whopping 50 million albums sold.  Also, we daresay there are a few hundred thousand women who'd disagree with him.
Lea Michele appeared on Ellen's show yesterday to perform her new song and talk about the last few months. (Daily Mail)
She spoke openly about the grief she has been experiencing after the death of her long term boyfriend Corey Monteith and said that going back to work on Glee was a no-brainer for her.
I said I have to go back to work. We have to. They're my family and what people also don't understand is that going to work is no harder than being at home and being in the house and opening up a closet and seeing a pair of shoes.
She also said that she is doing her best to move forward in a positive way, having felt lucky every day she had to spend with him.
TheEllenShow
David Beckham cries over episodes of Friends. (Heatworld)
PA Wire / Press Association Images PA Wire / Press Association Images / Press Association Images
In a radio interview this morning he said he's a softie who weeps over films and television all the time.
Armageddon, The Office, Friends… I'm an emotional wreck.
And the rest of the day's celebrity dirt…
Justin Bieber's new album's cover art is awful. (ONTD)
Khloe Kardashian is apparently going to file for divorce 'soon'. (Radar)
Jenelle from Teen Mom 2 is apparently pregnant again. OH NO. (Radar)
Ellen and Portia are just fine thanks. (People)
The lads from Made in Chelsea dressed up like the Anchormen lads for the new movie's London premiere last night.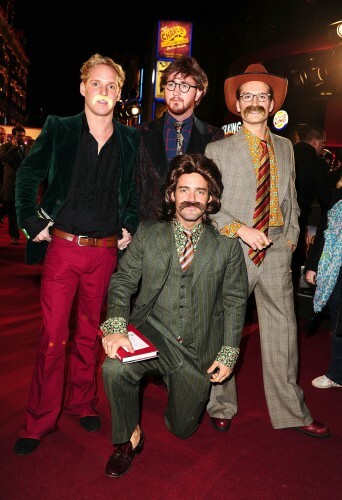 Ian West Ian West