1. He gives hope to students studying Arts. 
Tomas Tyner, AVMS, UCC. Tomas Tyner, AVMS, UCC.
While studying English and French at University College Cork, Norton had a mini-breakdown which kept him stuck in his room, collecting dead flies. We've all been there. Now look at him. Alongside Ryan Tubridy and Denis O'Brien, Graham Norton is one of those people who you can use to justify your degree to elderly relatives.
2. He maintains a great sense of humour, despite experiencing some pretty unpleasant things over the course of his life.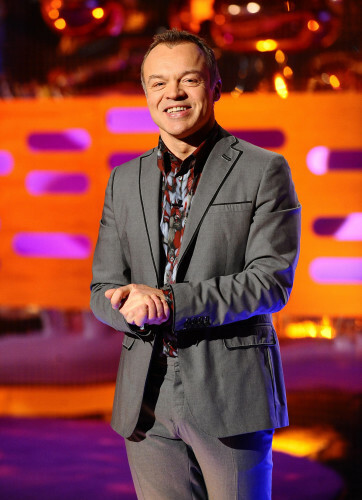 PA Archive / PA Images PA Archive / PA Images / PA Images
Graham lived in San Francisco during the AIDS crisis and years later was the victim of a violent attack in London. In 1988, Graham Norton was violently mugged and left for dead. He has spoken about it a few times:
It was very serious. It was a mugging, I didn't even realise I'd been stabbed in that classic way, because your adrenaline is pumping. I looked down, and I saw all this blood. I lost a bit over half my blood. So it was very touch and go.
Graham also said that although the ordeal always remains in the back of his mind, after this attack, he had some real perspective on his career. Every time he was rejected from a job or casting, he thought "You're alive. Shut up."
3. He never feels like he has to tone himself down.
Ian West Ian West
In a 2007 interview with the Irish Independent, Graham was asked "What about the 'camp' thing?"  He simply responded:
What about it? I am camp.
Camp is a weird thing. Because I think it's harder to accept being camp than being gay.
He brought up an occasion in which he saw gay teenagers being interviewed about him and said:
They said they thought the show was funny but hated how camp I was. Fine. Except these teenagers were the campest teenagers you'd ever seen. It broke my heart. Because I would have been them. I used to look at Larry Grayson and think "Oh my God, is that the future? I don't want to be like that person. And now they're looking at me, thinking, "I don't want to be camp like that.
 4. He still has a lot of time for Ireland.
With all of that money and all of those celebrity pals, you wouldn't think Graham would be arsed coming back to pay a visit to the humble Late Late Show. But he does, every now and then.
The Late Late Show / YouTube
Graham returns to his Bantry holiday home every year and is constantly singing West Cork's praises.
In 2013, he told The Irish Times:
If you are attracted by things that are visual, there is no denying it is a gorgeous part of the world. It is far less exploited than Cornwall or Devon, which are similarly beautiful, but it is so much more remote and unexplored.
5. He has an excellent technique for getting celebs comfortable around him.
Spoiler alert: it's alcohol.
The Late Show with Stephen Colbert / YouTube
6. And he's also an entertaining interview subject when he's on the other side of the couch.
On an appearance on This Morning, he spoke hilariously about interviewing David Cassidy, who was "bitter and weird." He called it "one of the worst experiences" of his life.
This Morning / YouTube
7. He's the only person who could get away with the Red Chair.
Other chat-show hosts try and save audience members who share shite, pointless stories. However, Graham Norton flips them off a chair once he loses interest. The victims of the chair-flipping aren't even annoyed.
It's an honour to bore Graham Norton. In fact, some people have asked him to flip their chairs, even after he told them their story was great and that they could return to the audience.
The Graham Norton Show / YouTube
 8. He's been at it for years.
It's not like he needed any practice, because he's basically a natural, but Graham Norton began as a comedian and actor (playing Father Noel Furlong, as we all know). From 1998, he ran a 74-episode-long series called So Graham Norton, which was just as funny as The Graham Norton Show.
GrahamNortonIsCool / YouTube
Then, before The Graham Norton Show, a similar show called V Graham Norton was produced from 2002 – 2003. Then there was The Graham Norton Effect in 2004. Here's a clip of RuPaul and Macauley Culkin sitting on Graham's old couch.
RusHouse2 / YouTube
DailyEdge is on Instagram!