WE KNOW THAT everytime you hear someone crowing on about 'YOLO' or 'swag' you want to do this to them…
One teenager in the US got way more than he bargained for when he took it a step further and wrote "YOLO" (you only live once) on his STAAR standardised test in Texas.
You see, he tweeted a photo of one of his essay answers which simply read:
I have the TAKS test to study for, not this unneeded craziness. YOLO :)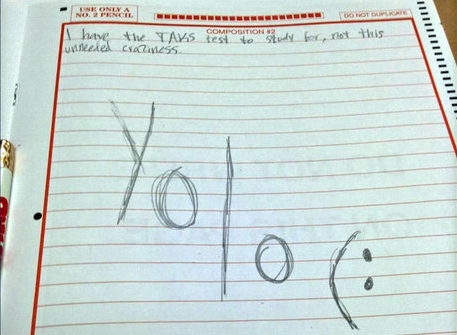 Birdine argued that the test was not necessary for his college admission and that it was a waste of time, according to KENS5 TV. Only the TAKS test will count towards students' final grades, but they are being forced to take both TAKS and STAAR.
He was suspended as a result of the "security breach" and now his classmates have started a #FreeKyron Twitter campaign.
Don't go getting any ideas you Leaving Cert scallywags!