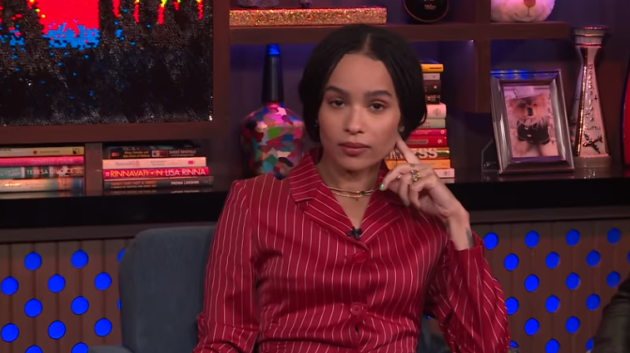 WWHL WWHL
THIS YEAR, SINGER Lily Allen made her comeback with not only a brand new album, but an autobiography detailing some of the worst years of her life. 
In her book My Thoughts Exactly, Allen addressed some of her biggest public scandals and spoke frankly about the deterioration of her marriage. She made headlines when an excerpt of the book was leaked to the Daily Mail and the paper sensationalised a story about how the singer had slept with female escorts while her marriage was falling apart. When this made the news, Lily said that it wasn't quite as salacious as the press were making out, but was actually rather depressing. 
Nearly two months since the book's release, people are still talking about it. On Andy Cohen's show Watch What Happens Live, Cohen was joined by actress, singer and model Zoë Kravitz. A caller phoned in with a question for Kravitz:
I was just wondering if Lily Allen warned you that she was going to write about the two of you kissing in her autobiography, and how did that come about? 
Without taking a second to think about it, Kravitz replied, "Who's Lily Allen?" 
WWHL with Andy Cohen WWHL with Andy Cohen
The 29-year-old didn't just leave it at that, either. She added, "If by kissing, she means like 'attacking', then yes. She kissed me. She attacked me." Andy Cohen asked if this was how the kiss was portrayed in the book, and Kravitz replied "No." Kravitz also added that Lily Allen made it sound as though they both wanted to kiss, which was not the case.
Cohen then asked, "Did you read the book?" To which Zoë replied, "I don't think anybody read the book." 
Watch What Happens Live with Andy Cohen / YouTube
Yikes.
DailyEdge is on Instagram!