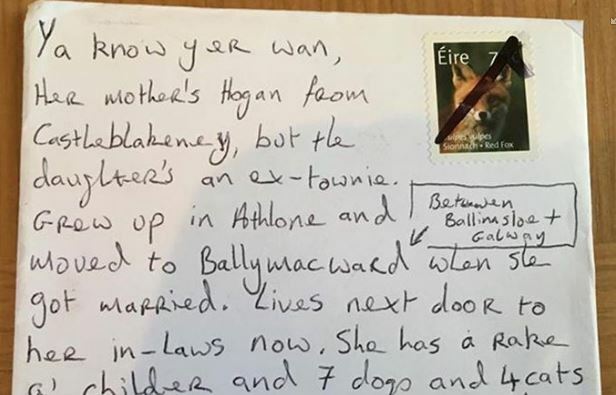 Nicole Lally / Facebook Nicole Lally / Facebook / Facebook
YESTERDAY, GALWAY RESIDENT Nicole Lally received a Christmas card from her longtime friend Amanda.
This, despite the fact that the card was addressed to…
Ya know yer wan, her mother's Hogan from Castleblayney, but the daughter's an ex-townie. Grew up in Athlone and moved to Ballymacward when she got married. Lives next door to her in-laws now. She has a rake a' childer and 7 dogs and 4 cats and about 30 hens and ducks and some rabbits and fish and I think she has a hamster as well. She has a shrine to the Virgin Mary in the left corner of her garden. Can you give her this please? Thanks xxx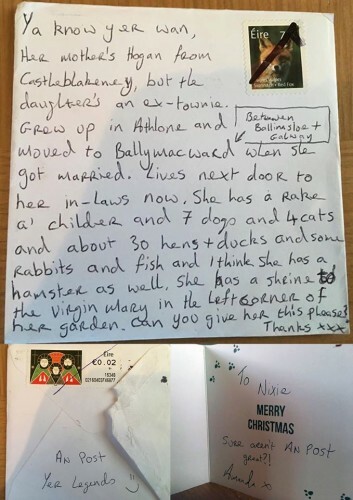 Nicole Lally / Facebook Nicole Lally / Facebook / Facebook
It's an An Post miracle!
Nicole Lally told DailyEdge.ie that her friend Amanda sent the card in an effort to "embarrass" her and stated that she was just "chancing her arm" about whether it would be delivered or not.
Nicole said that she and Amanda had tried to test An Post's limits a few years ago by sending each other cards with incomplete addresses. Hers was delivered, but Amanda's was not.
And her card this year may not have been delivered this time around were it not for the swift intervention of her local postman Celsius Sheridan.
Nicole explained that the stamps had actually been blacked out and it was only when the supervisor in the sorting office in Ballinasloe asked around that Celsius was able to identify Nicole Lally as the intended recipient.
"We're a rural area," Lally explained. "Celsius would know everyone."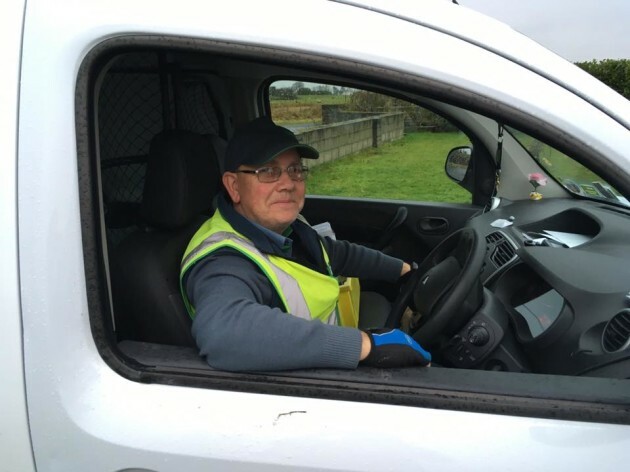 Nicole Lally / Facebook Nicole Lally / Facebook / Facebook
Nicole shared the post on Facebook on Wednesday where it has since received over 1,100 likes. She said neither she nor Amanda anticipated it going viral, but that she was happy to highlight what good sports An Post are.
Three cheers for Celsius and An Post!
DailyEdge is on Snapchat! Tap the button below to add!