A BLACK BEAR who eluded authorities for three weeks while it had a plastic pot stuck on its head is finally back in the forest.
A Tennessee wildlife officer has been praised for her persistence after tracking the animal since 28 June, when initial reports emerged that witnesses had sighted the bear with a clear plastic food container stuck on its head in the foothills of the Smoky Mountains.
The Tennessee Wildlife Resources Agency reports that attempts to locate the bear at that time were unsuccessful, and that it wasn't spotted again until 4 July. But once again, the animal gave Shelley Hammonds and other wildlife officers the slip. According to the report, officers got close several times over the next ten days:
On one occasion, Hammonds even got a shot at the bear only to watch the dart sail over its back and onto the ground. She became very disappointed and feared the bear was going to suffer a slow and agonising death.
After dozens more calls from witnesses, on 16 July Hammonds received word that the animal was in a certain area, and when she arrived the bear walked right across in front of her car, allowing her to shoot a tranquilising dart.
Hammonds has said that the bear was in an "emaciated condition" and that it was about 85 pounds underweight:
For three weeks he had not eaten, had been breathing his own breath, and the only way he must have been able to drink was by lowering his head under water and filling up the jug.
The bear made a full recovery and was released back into the wild.
It's thought that the bear got the container stuck on its head while it was rummaging through rubbish. Local residents have been urged to recycle or cut up such plastic pots in the future.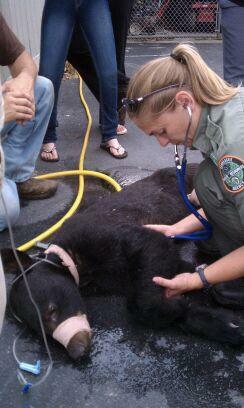 Image via TWRA