THE LATEST EPISODE of Channel 4′s excellent new comedy series Catastrophe featured scenes that every Irish person can relate to – the Daddest Irish Dad ever.
Sharon Horgan's character (living in London, unexpectedly pregnant after a six night stand with enormous American Rob Delaney) has a visit from her mam and dad, who've flown in from Ireland.
There follows an education in Irish parents and their carry on.
"F**king Ryanair!"
Shazzer's mam and dad flew Ryanair from Dublin, naturally.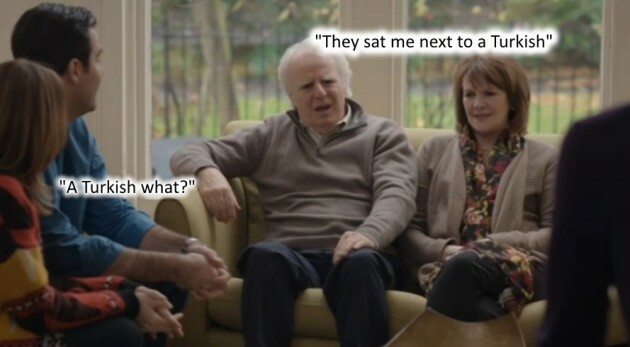 Sitting on their holes
Nothing Irish parents love more than putting down roots in the sitting room with the tea.
Making a show of you
Sharon's dad can't resist bringing up her old boyfriend in front of her new boyfriend.
Whatever happened to that Eoghan fella? He was around for a while. He was a good man.
Making you feel like a child
Sharon and Rob tell her parents that they're planning to get married (before they tell them that they're going to have a baby), and in wades the Daddest Dad with…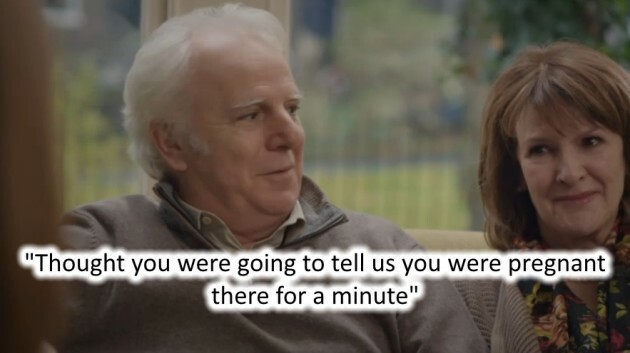 Actually Dad, she is pregnant.
Asking where you go to mass
It's actually a Mam Test that Rob is subjected to when she quizzes him on where he goes to mass.
He takes a guess at "St Mary's".
JACKPOT!
And the ultimate in Dad moves…. pressing a tenner into Sharon's hand at the airport "for the baby"
After an emotional episode, this was enough to push us over the edge.