ON MONDAY NIGHT, when 16-year-old American Madie Cardon was rooting through her old school stuff, she made a rather mortifying discovery.
The kind you don't want to come across ever.
She stumbled upon her diary from when she was seven – and it contains seriously gas drama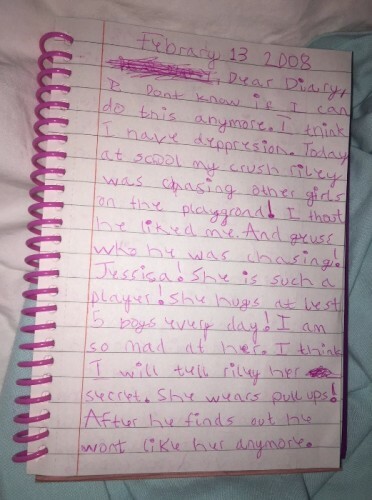 Twitter Twitter
Her first page outlines the drama in school:
Today at school my crush riley was chasing other girls on the playground! I thout he liked me. And guess who he was chasing! Jessica! She is such a player! She hugs at least 5 boys every day! I am so mad at her. I think I will tell riley her secret. She wears pull ups! After he finds out he won't like her anymore.
And the next day was no better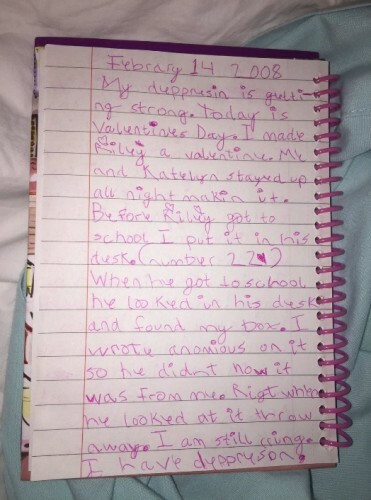 Twitter Twitter
She left him an anonymous Valentine's Card, as the pressure on their relationship ramped up:
Before Riley got to school I put it in his desk (Number 22 <3). When he got to school he looked in his desk he found my box. I wrote anomious [anonymous] on it so he wouldn't know it was from me. Right when he looked at it he throw it away. I am still crying. I have depression.
RILEY THREW IT AWAY, in front of her and all.
In her final installment, Madie added some illustration to help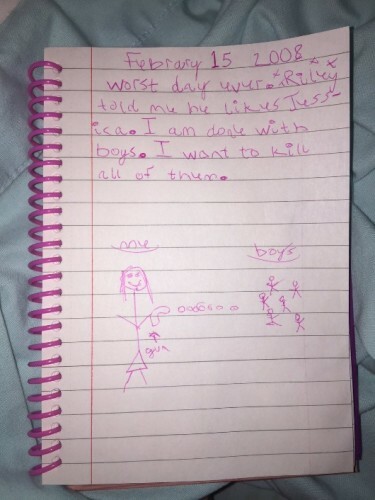 Twitter Twitter
"I am done with boys. I want to kill all of them."
What a three day rollercoaster of emotion for Madie.
Since she tweeted the diary on Monday, it's been retweeted over 12,000 times and shared all over the internet.
Hopefully she's got over Riley and her first, dramatic heartbreak by now </3
hat tip Buzzfeed
DailyEdge is on Snapchat! Tap the button below to add!