IT'S NOTHING REALLY, just Quentin Tarantino and Edgar Wright casually having a lunch date under a Pulp Fiction poster.
Here's hoping they both enjoyed a Royale with cheese.
The lucky celeb spotter, who posted the photo on Imgur, writes:
I was on a lunch date in an empty restaurant and was staring off into this Pulp Fiction poster. The guys sitting under it caught my attention because they couldn't stop laughing. Looked down and saw these guys.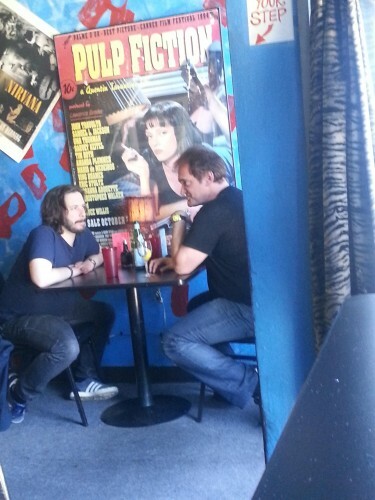 Imgur Imgur
The pair have been good friends since Wright directed a fake commercial for Tarantino's 2007 double feature, Grindhouse.
Tarantino went on to return the favour by contributing to the director's commentary for Wright's movie Hot Fuzz, in which they reached peak film nerd and discussed over 200 films.
We wonder what they're talking about under that Pulp Fiction poster. Can we join you guys next time, Quints?