EVERY WEEKDAY MORNING, DailyEdge.ie rounds up the best of the day's celebrity dirt – from the top to the very bottom.
Forget the Golden Globes awards show, that's old news. We want to know what was going on after the show, when the shoes came off and the drinks were flowing at the after parties.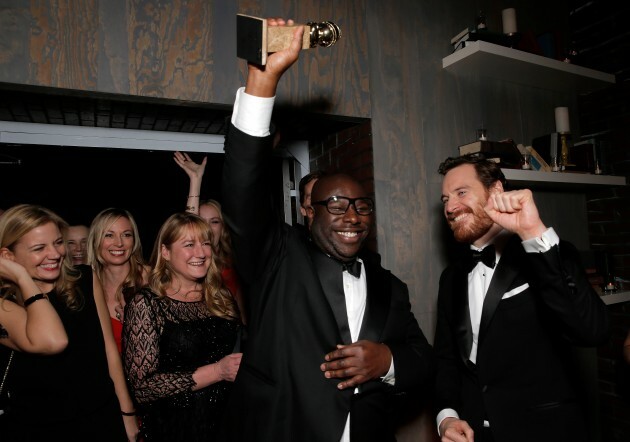 AP / Press Association Images AP / Press Association Images / Press Association Images
Was anyone trying to lob the gob on Fassbender? Was there a Modern Family/Parks and Recreation dance off? Luckily, Vulture has it all summed up in a handy after party timeline.
Our favourite snippets include:
11.11pm: Idris Elba sits on a banquette at the WB/InStyle party, swarmed by women. 11.13 p.m: The women have now dispersed and Idris sits by himself, staring into space, unbothered.
Ben Affleck is in the house. He's striding by Matt Damon's empty table. "Where's Matt? Is Matt here?" Aw. He misses his friend
Benedict Cumberbatch danced to "Blurred Lines" but did not dance to "Poker Face….  gets so into "Don't Stop Believin" that he thrusts both arms out for balance like he's on a dangerous surfboard.
Oh, and remember that picture of Cumberbatch and Fassbender dancing? Well, the song has been identified:
(Fuentes was at the after party and in the company of M-Fass and B-Cumbz)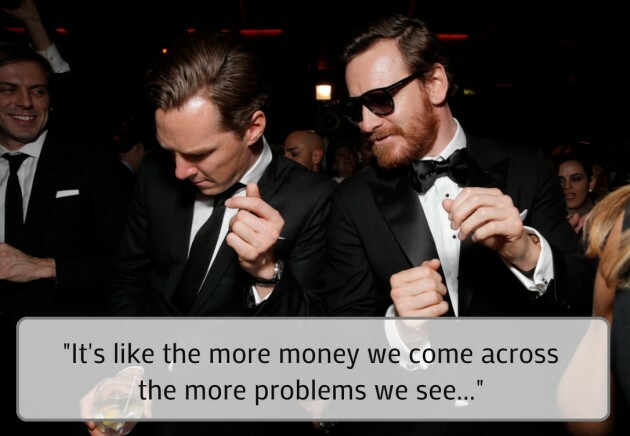 Todd Williamson / AP/Press Association Images Todd Williamson / AP/Press Association Images / AP/Press Association Images
Community star Joel McHale has called Justin Bieber a  "f*cking idiot" on TV.
McHale was responding to the news about Bieber throwing eggs at his neighbour's house, which led to a police raid and a drug bust.
Asked by Conan O'Brien why Bieber would be involved in such carry on, McHale had a fairly direct response: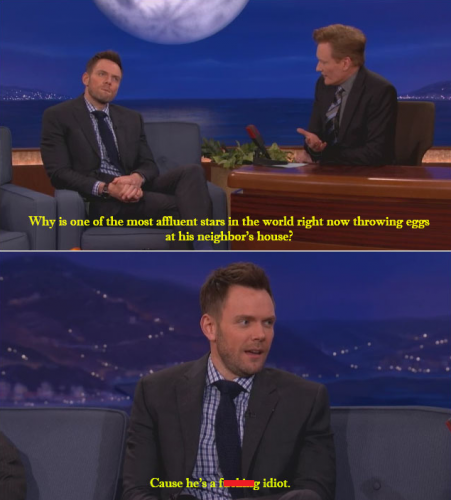 Imgur Imgur
TMZ reports that the drugs found at Bieber's house allegedly belong to his pal Lil Za, and are likely to be a powered form of ecstasy.
Kate Moss is turning 40…
… and the Daily Mail is taking a hit for depicting the model "growing old disgracefully" with this series of images on their home page.

Kate Moss still looks THE BUSINESS! If that's what growing old disgracefully is, then sign us up.
And the rest of the day's celeb dirt…