THE DEBS MAY seem a long time away but if you want to really impress your date why not snap up a fried chicken corsage from KFC?
Yes. You read that right.
For the small fee of $20 you can buy a piece of fried chicken for your lucky date to slap on their wrist. And they'll even let you choose which variety too.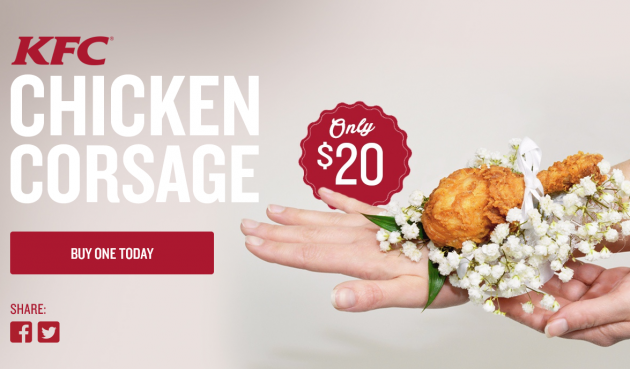 KFC.com KFC.com
They guarantee that the drumstick accessory – which can be assembled using a corsage kit from a florist in Louisville, Kentucky – will help you your fair love.
Make it less awkward by surprising your date with a corsage that will make her eyes light up and her mouth water.
The only hard part is deciding which will best match her dress: Extra Crispy, Kentucky Grilled Chicken or Original Recipe?
This lad knows it's a very important decision: Sure won't you be gettin' both the shift and a handy mid-evening snack?
KFC / YouTube