"THEY CALLED ME mad, and I called them mad, and damn them, they outvoted me."
Not our words, the words of Nathaniel Lee.
We won't call you anything here at DailyEdge.ie Towers, we promise. All we'll do is give you snappy snippets of certifiably bonkers news from around the world.
 So let's dance.
A giant foam hotdog has left trekkers perplexed. Luc Mehl and his friends stumbled across the hotdog hiking through the middle of nowhere in Alaska – in a region very undeveloped and little-travelled. The hotdog was 9 foot and the bun 7 foot. The trekkers did what anyone would do – and tried to burn it. (What? I don't know either.) Well, your mother did always say that hotdogs were made out of "mystery meat". Eh? Eh? Eh? (Alaska Dispatch News)
The world can finally say hello to its first ever test-tube baby penguin. Hello, first ever test-tube baby penguin! The unnamed baby Magellanic penguin hatched at Seaworld San Diego 12 weeks ago but they are only now releasing more information about her. They haven't named her yet, which come on? Really? After 12 weeks? Anyway. She is the first baby penguin to be born using artificial insemination. She is reportedly doing well. Name suggestions on a postcard! (Yahoo! News)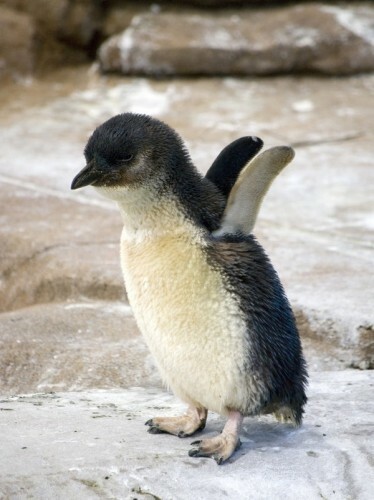 Imgur Imgur
A suggestion by Singaporean authorities that citizens with noisy dogs should "debark" them has been met with ridicule online. You could say that animal rights groups went… BARKING MAD OVER IT. Thanks, we're here all week, try the veal. (Reuters)
An orphaned baby hippo who was raised by dogs has been released back into the wild. The baby, adorably named Douglas, captured the hearts and minds of Britain when he appeared on "Paul O'Grady's Animal Orphans" in January of this year. The below photo is not of Douglas, but damn if baby hippos aren't unbelievably cute, right? Who knew? (Mirror UK)
Imgur Imgur
Brooklyn's newest trendiest eatery might just be in an actual bin. Yes, the so-called Salvage Supperclubs are moving painfully cool hipsters where they rightfully belong – out with the old bin bags and empty pizza boxes in New York dumpsters. Next stop, glamorous spa days at your local tip. Anyone else got any Williamsburg-esque start-up ideas? (Take Part)
A Goodwill (a form of charity shop) in Austin, Texas received a donated human skull this week. Yep. Let that sink in for a sec. Apparently they discovered the skull while sifting through donations and it could have been there for up to a week. Authorities are currently on the hunt for the mysterious benefactor. Creepy, no? (News Everyday)