THE FOURTH SEASON of zombie TV show The Walking Dead premiered in the US earlier this week.
One of the new characters encountered by Rick and the gang is an Irish survivor who has been living in the woods with her husband.
She meets Rick in the forest and begs him for food to help them to survive.
Various US recaps and reviews of the episode describe her as
…the adult version of that freaky little girl from The Ring
… a completely random Irish woman [who] was introduced in this episode (and promptly tossed away) to serve as a mirror to Rick's own fractured sanity.
…They were on their honeymoon when they got trapped at a local airport; she never says where she's from, but it's clear from her lilting accent that she's Irish.
Without giving too much away, the woman comes a cropper in the episode.
However but as with many other Walking Dead characters, we suspect it might not be the last we see of her. 
The Irish actress playing the woman is Tipperary native Kerry Condon, who previously appeared as Octavia in the HBO series Rome.
She's virtually unrecognisable in The Walking Dead, owing to her similiarity to the 'walkers' or zombies.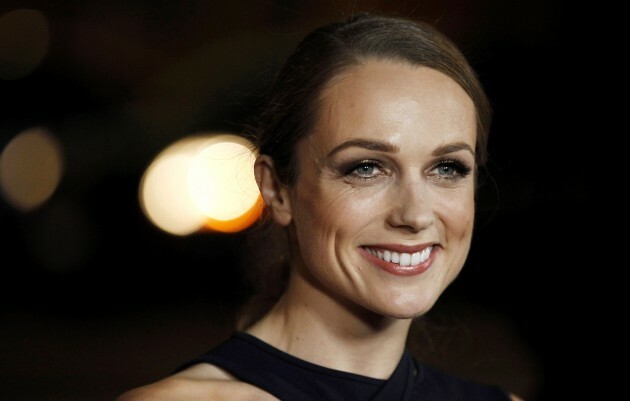 Matt Sayles Matt Sayles
Meanwhile, her Irish lilt hasn't gone unnoticed: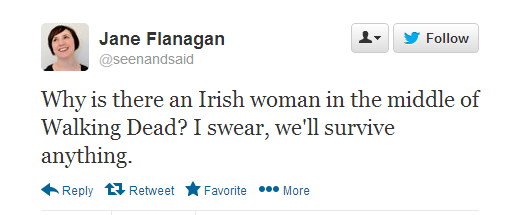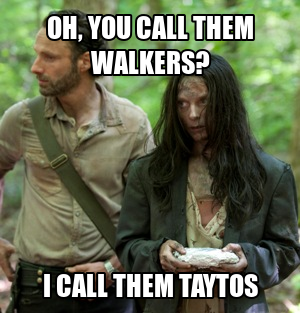 Imgur Imgur