SO, WHAT'S LINDSAY Lohan up to these days? Oh, only disappointing an entire British town by not showing up to turn on their Christmas lights.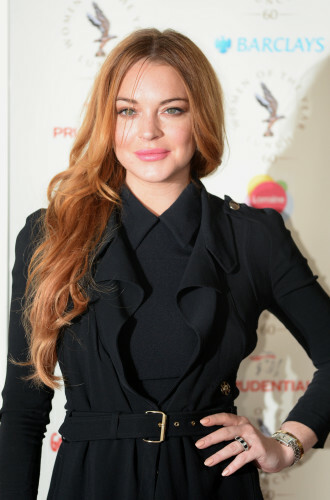 PA Wire / PA Images PA Wire / PA Images / PA Images
How did they get in this mess? Like most things these days, this story has something to do with Brexit.
Back in June, Lohan became an unlikely voice in the Remain campaign, sending out a flood of tweets on election night begging the people of Britain not to leave the EU.
In a now-deleted tweet, she asked where the town of Kettering was: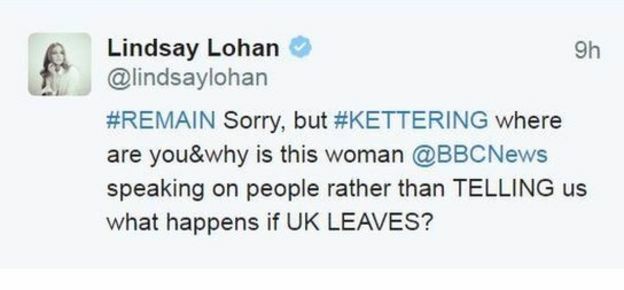 Screengrab via BBC Screengrab via BBC
In response, local MP Philip Hollobone asked her to come and switch on the town's Christmas lights to "redeem her political reputation".
Lohan agreed, asking him to direct message her about the event:
The Kettering Borough Council repeatedly contacted Lohan's management until Thursday, the day of the Christmas tree lighting, but failed to get a definite answer.
Then, the actress posted this video on her social media accounts, apologising to the people of Kettering for not coming to the event (minus the dodgy ~European accent she adopted for a brief period this month):
Hi everyone in Kettering, it's Lindsay Lohan. I really wanted to make it there to light the tree, but with my busy schedule I wasn't able to, and I appreciate the offer. Happy Holidays.
She was replaced by former Eastenders actress Cheryl Fergison, but it seems that won't dull the pain of her absence.
Hollobone told the BBC that Lohan's no-show was a "big disappointment" for the town, despite them never getting confirmation of her appearance:
I think that when you're an international celebrity who says you're going to do something then people expect you to do it… Most of us thought that she wouldn't actually come but there was a little bit in all of us that hoped she would.
Don't even think about showing your face in Kettering any time soon, Lohan. These wounds still need to heal.
DailyEdge is on Snapchat! Tap the button below to add!