DON'T MAKE RIDICULOUS bets when you're drunk: They will come back to haunt you.
One New Zealander learned that the hard way, apparently.
A 'friend' of the unfortunate lad took to BodyBuilding.com to reveal that he'd lost a bet while playing poker with friends five years ago. As a result, he allowed those same friends to change his name but never thought that it would be accepted.
Except it was, and he only found out last month when we went to renew his passport.
His friend claims it's 100 per cent legally binding from Monday when the poor fella will be known as:
Full Metal Havok More Sexy N Intelligent Than Spock And All The Superheroes Combined With Frostnova
Here's a copy of the letter that made its way to Imgur this morning.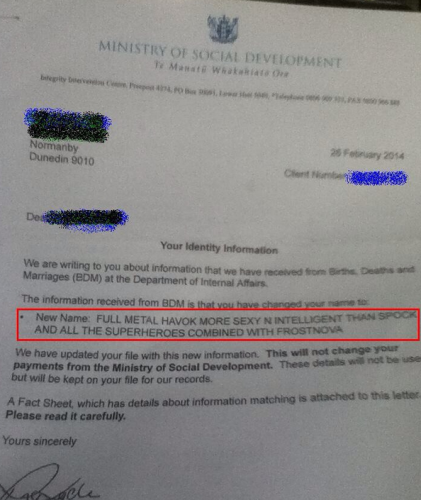 Imgur Imgur
We still have our suspicions that it's too good to be true.
No official state body would accept a name like that, right?