"REX FLUFFINGTON, do you take this shih-tzu to be your lawfully wedded woof?"
Mass weddings we have heard of, but mass dog weddings is a different kettle of fish altogether.
Around 40 pet pooches were married in dog-sized bridal gowns and tuxedos in the Peruvian capital of Lima over the weekend, as their delighted owners looked on.
According to Sky News, the organisers of the mass wedding said the ceremony would help to "encourage people to be responsible pet owners".
After the ceremony, official wedding certificates were issued to the owners of each canine couple, each including paw prints of the furry bride and groom.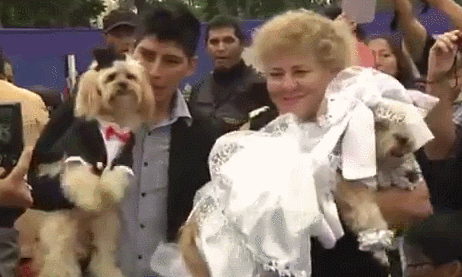 Upon seeing his pooch get hitched, one proud dog-owner said:
Now, all that is left is for the two dogs to be together and that they will live happy forever.
Here's a full video of the ceremonies, where you can watch one beautiful doggy bride get married to her bit of ruff. Ahem.
Mike Bloomfield / YouTube