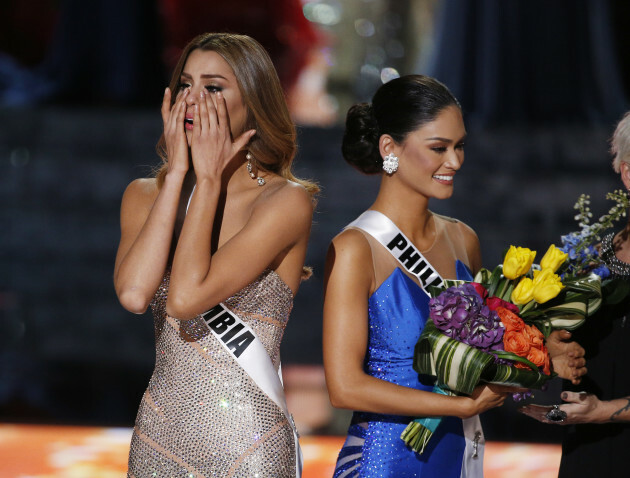 John Locher / PA John Locher / PA / PA
LAST NIGHT'S MISS Universe pageant in Las Vegas concluded with one of the most ridiculous presenting blunders you could imagine happening on live TV.
Host Steve Harvey opened the envelope to read out the winner, and just straight up announced the wrong name.
So Miss Colombia Ariadna Gutierrez thought she had won, and it was so mortifying when everyone realised there had been a mistake:
Tyler Bishop / YouTube
Eventually Steve awarded the title to Miss Philippines Pia Alonzo Wurtzbach – but the crown was already on the head of Miss Colombia.
And the moment they had to remove it was very awkward indeed
https://vine.co/v/iKXtPD66pKQ
The internet was quick to point out that this situation was ridiculous
And the whole thing became a meme within minutes of happening
The presenter Steve Harvey took to Twitter to issue an apology, but spelled both Phillipines and Colombia wrong
The TV presenter – famous for his long running role in the US version of Family Fortunes – quickly deleted that tweet and apologised again
He says it was an honest mistake
You have to feel bad for everyone involved in this situation.
Of course, the jokes have been excellent
https://vine.co/v/iKwgWZDr06m
Harvey's meme status is already gold, but now it's moved up to expert level
Twitter Twitter
And for the eventual winner, the news came as quite a shock
Last night Miss Universe moved beyond parody
And the final insult came when they revealed the results card – and elimination was spelled wrong
You can see why poor Steve was a little confused.
But still. So much facepalm.