PEOPLE HAVE LONG suspected that singer Pharrell Williams is a vampire. Here he is in 2004, at the age of 31: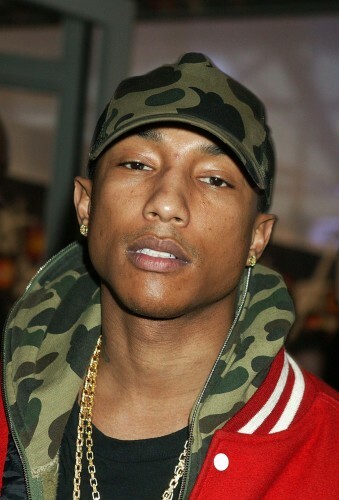 EMPICS Entertainment EMPICS Entertainment
And here he is in 2017, at 44.
Marechal Aurore / ABACA Marechal Aurore / ABACA / ABACA
How does he remain so untouched by the years?
He won't reveal if he's a supernatural being or not, but he has shared a bit about his skincare routine – and people are lapping it up.
In an interview with Dazed Magazine, Pharrell gave one main piece of advice for taking care of your visage:
I exfoliate like a madman. When you exfoliate and you drink a lot of water, that does good for you. To me, the key is just exfoliating, like a monster. There's a lot of dead skin. All the time.
Yes, but what else? What other tidbits does he have for us?
In a 2013 piece by beauty website Into The Gloss, he expounded on the virtues of washing your face:
You have to clean your face. You can't sit around and assume it's going to be OK. Years and years ago, Naomi Campbell pulled me aside and said, "Listen, this is what you have to do – you have to go to a dermatologist; you can't keep using drugstore products." WEll you can, but with store products you have to be really diligent.
Basically, everyone is hanging on to his every word: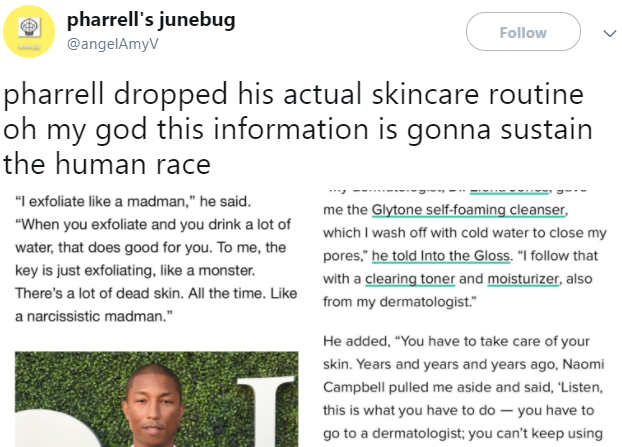 Twitter / @angelAmyV Twitter / @angelAmyV / @angelAmyV
OK, so Pharrell's skincare advice is something like this: Wash your face, exfoliate, hydrate, and don't listen to Naomi Campbell.
Sounds easy. We're ready for our eternal youth!
DailyEdge is on Snapchat! Tap the button below to add!