Jimmy Kimmel Live / YouTube Jimmy Kimmel Live / YouTube / YouTube
LAST NIGHT, WOMAN of the moment, Ruth Negga, appeared on Jimmy Kimmel Live! to have a chat about Loving, the Golden Globes and growing up in Ireland.
And she did us proud by dropping some quality Irishisms during her interview.
For instance, here's what she said when Kimmel asked her about her night at the Golden Globes.
YouTube YouTube
Negga, of course, received a shout-out on stage from Meryl Streep and told Kimmel that she was still on cloud nine
I'm still sort of floating from that. I haven't absorbed it. When will I ever absorb it?
Streep referenced Negga's Ethiopian-Irish background on stage — although a slip of the tongue caused Streep to initially say that Negga was raised in London — and Kimmel asked Negga how Streep knew these details about her background.
Her response?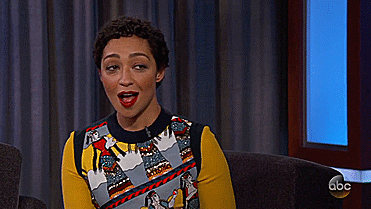 Imagine Meryl Streep Googling you, though. The dream.
As for what she made of Donald Trump's claim that Meryl Streep is overrated?
What a load of poppycock.
Jimmy Kimmel Live / YouTube Jimmy Kimmel Live / YouTube / YouTube
Most Irish response to Donald Trump ever.
Ruth later shed a light on what it was really like growing up in Ireland
She told Kimmel about the cruel reality of growing up with only two channels.
When I was growing up in Ireland, there were only two channels. And they didn't start on Saturdays until midday, so you'd be staring at your TV waiting for midday for your channels to come.
And what Irish children were expected to watch in the 1980s/1990s.
I used to watch the 1950s Batman. Loved that. And Eartha Kitt was Catwoman. I just lived for her appearances.
To which Kimmel responded:
So you guys really were on a delay there television-wise!
SHUT UP, JIMMY. YOU DON'T KNOW OUR LIVES.
Watch the (extremely charming) interview in full below.
Jimmy Kimmel Live / YouTube
DailyEdge is on Snapchat! Tap the button below to add!