HAVE YOU SENT your letter to Santa yet? If you haven't, it's time to get moving.
Though many children have finished poring over the Smyths and Argos catalogues and sent their letters to Santa, he's still expecting a few from some children here in Ireland.
So Santa's head elf Nollaig penned this lovely letter to remind Irish children to write, which was published in the Irish Examiner today: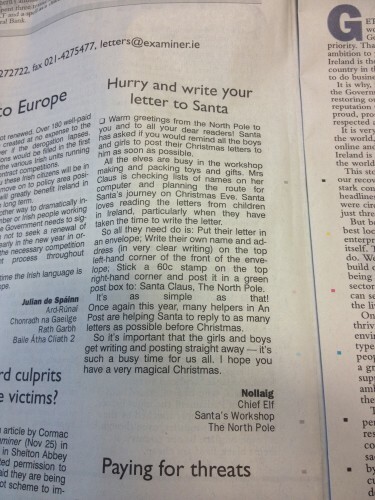 Irish Examiner Irish Examiner
Nollaig wants to make sure Santa receives every letter, so she's included a little guide to posting to the North Pole:
Santa loves reading letters from children in Ireland, particularly when they have taken the time to write the letter. So all they need to do is: Put their in an envelope; Write their own name and address (in very clear writing) on the top left-hand corner of the front of the envelope; Stick a 60c stamp on the top right-hand corner and post it in a green post box to: Santa Claus, The North Pole.
The letter also reveals that Mrs Claus checks the lists of names on her computer now – how very modern.