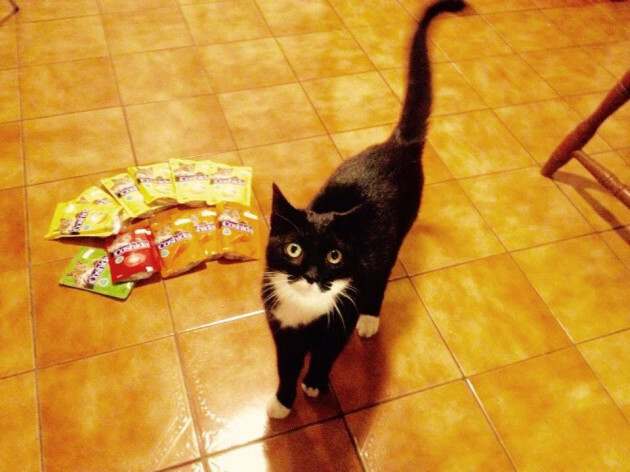 Emily Coffey Emily Coffey
MEET HENRY.
He's around five years old, and he lives in Fairview.
Back in 2013, Henry earned the name 'Devil Cat', after appearing unexpectedly in a neighbour's kitchen, appearing to shout 'GO AWAY' at the bemused occupants, and subsequently starring in a video that's since racked up half a million views on YouTube.
Caroline H / YouTube
We loved Henry at the time, and all these years we've wondered about. Is he really a devil cat? Can he really talk? And will he really jump on you, Caroline?
A one-woman cat
So we asked Henry's owner Emily Coffey. Emily tells us that while Henry certainly is a "one woman cat" and not overly fond of strangers, he's certainly not a monster.
Emily got in touch with DailyEdge back when she realised that Henry was the Dublin 3 cat going viral for wrecking a kitchen. "I think my cat might be the Devil Cat who terrorised the two girls", she said.
Looking back she remembers "we hadn't been in Fairview that long" she says. "That's probably why he wandered. He looks terrified in the video".
Henry has quite the story, beginning in the illustrious environs of Obama's homeland itself: Moneygall, Co Offaly.
Day tripper
"I was working in Portlaoise at the time (summer 2011), and from my office I could hear this meowing". Emily and her coworkers finally realised that the tiny sounds were coming from a black and white kitten hiding in an engine under someone's car.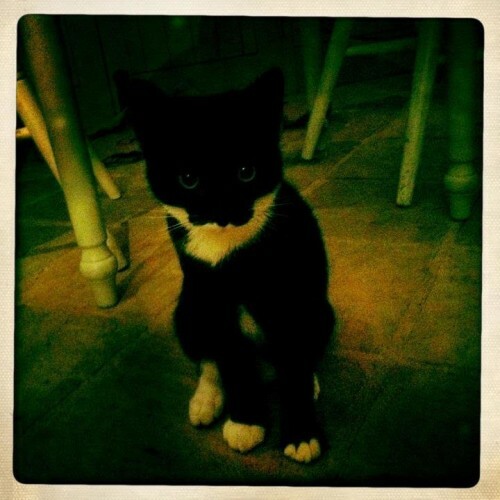 But it wasn't a Portlaoise kitten. Henry had climbed up into the car in Moneygall, and travelled the 56 kilometres to the car park in Portlaoise. Emily called some relevant authorities and learning that Henry faced an uncertain fate if handed in, she decided he was coming home with her.
"It was around the time of Obama's visit. So I called him Henry". After the president's long lost cousin, of course.
So Henry and Emily became a unit. He's moved with her three times, and became something of a mini celebrity after his day as a Devil Cat, with Emily even appearing on a BBC radio show to talk about his adventures.
And as for his talking, Emily says she's never heard him say "go away" but:
He often sounds like he's saying "mamma". I'm convinced he is but I can never get him to do it when there's anyone around.
Henry of Fairview. We salute you.